Intramural Athletics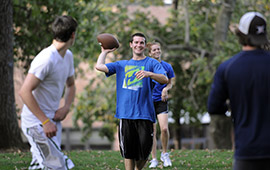 IUP offers several club sports and intramural leagues to our students throughout the year.
IUP club sports provide students with an opportunity to engage in competitive and pleasurable athletic activities. Please visit Crimson Connect for information on all of our club sports and student organizations!
Please direct any questions regarding club sports to athletic-operations@iup.edu.
Intramural Sports are directed by our Student Cooperative Association. For information, please visit the Intramurals Recreational Sports Program.