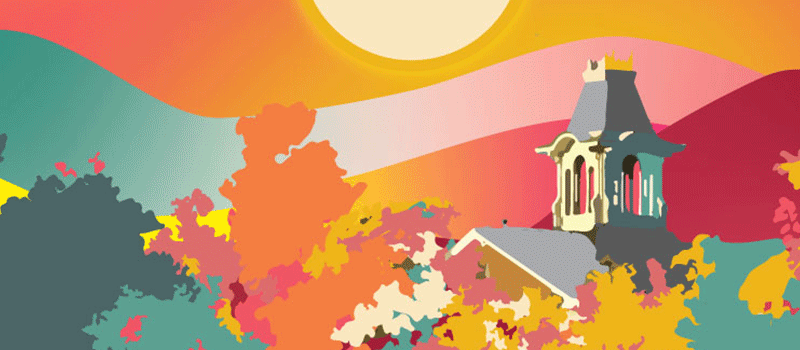 Early Summer Session
May 8—May 26, 2023
Summer Session I
May 30—June 30, 2023
Summer Session II
July 3—August 4, 2023
Attending college this year was challenging in all-new ways, but you did it.
Maybe you took fewer credits? Now, it's time to catch up. Summer classes are the perfect way to bounce back.
In case you are new to summer classes, here's what you need to know:
Classes marked on the University-wide Class Schedule as Distance Education classes are completely online, so you can take them from home. Professors can either set a day and time to meet virtually or set the class up online as asynchronous. (There is a small chance some DE classes would require you to be on campus for a test, but it is unlikely. Check with the professor.)
Classes designated as Remote Faculty Instruction typically meet online on a specific day and time (usually synchronously via Zoom). Professors of RI classes have the option to use the classroom, such as for a test or guest lecture, so there is a possibility that students might need to be on campus at times during an RI course. Check with the professor.
This summer, some classes might be offered in the classroom with safety precautions in place. They will have dates and times on the class schedule without the DE or RI designations.
Classes Online or On Campus: Registration begins March 27.
Whether in town or in your hometown, you'll be sure to find a class or two in our list of online or on-campus offerings.
Whether you are taking summer classes in person or online, you might be able to use financial aid to help with your expenses. Check out the general guidelines that apply to summer financial aid overall and specific guidelines for undergraduate and graduate students.
Take it step-by-step to sign up for summer classes:
Use Degree Works in MyIUP to check your progress toward graduation and what classes you still need.
Check the University-wide Class Schedule to find out what summer classes are offered and how they are set up.
Contact your advisor. (You can find your advisor's contact information in MyIUP.)
Look into summer financial aid.
Register for classes starting on March 27 (the same day fall registration begins).
Adding a few classes this summer can keep your four-year plan on track, saving you time and money.
Graduated a Semester Early with Online Classes

"I knew I wanted to graduate as quickly as possible and online classes made that happen. Not only did I graduate a semester early, the online classes allowed me to get dual certifications in education and add a minor in educational psychology."

Brooklynne Sharbaugh, December 2016 education graduate, now teaching in Blairsville, PA
How to Register: Undergraduate Courses Only, Except for Pennsylvania State System Students
Non-IUP Students
Summer sessions are open to students from other universities and the general public. A non-IUP student application must be completed.
State System Visiting Students
Students attending another Pennsylvania State System of Higher Education institution are able to transfer the credit and the grade back to their home institution.
Current IUP Students
Students already enrolled at IUP should use MyIUP to register.
Undergraduate and graduate registration begins on Monday, March 27, 2023.
Tuition and Fee
Cost Estimator
Estimate your cost to attend IUP, including tuition, fees, and room and board.
Same IUP Quality, With Added Sunshine
Our summer courses offer the same great quality, great professors, and a great variety of programs of study, just with a few more rays of sunshine and vitamin D.