Individual Course Withdrawal Policy
Individual course withdrawals provide students who are unable to complete a course with the option of withdrawing from that course. For more details on IUP's policy regarding individual course withdrawal, please review either the graduate or undergraduate course catalog.
When a student withdraws from the course, a final grade will appear on the transcript as a "W." The "W" grade will not negatively impact a student's GPA, but it may cause students to lose financial aid, scholarships, etc. For this reason, it is highly recommended that all students interested in pursuing a withdrawal consult with the Office of Financial Aid and their academic advisor.
To withdraw from a course or courses, please follow the instructions below. Additionally, please refer to the academic calendar of the semester that you are planning to withdraw from a course to see the withdrawal deadline and other important dates for the semester.
Sign in to MyIUP and click on the Academics page.
Navigate to the Course Registration and Textbook section and click on Registration Toolbox.
Click Register for Courses.

Please note that if you have a financial hold, you will not be able to enter the registration system. If you wish to withdraw from a course but have a financial hold, please download and complete the Financial Hold Override form and return it to the Registrar's Office on the third floor of Clark Hall.

Select the term that the course is in from which you want to withdraw.

Consult the academic of the specific term for withdrawal deadlines and other important dates.

Enter the alternate PIN [ALT PIN] for that term.
Find the course you want to withdraw from (all enrolled courses are at the bottom right).
Select Withdraw from the pull-down (see examples below).
Click Submit.
The course is now successfully withdrawn from your academic schedule. Remember that withdrawn courses will appear on official and unofficial IUP transcripts as a "W" grade."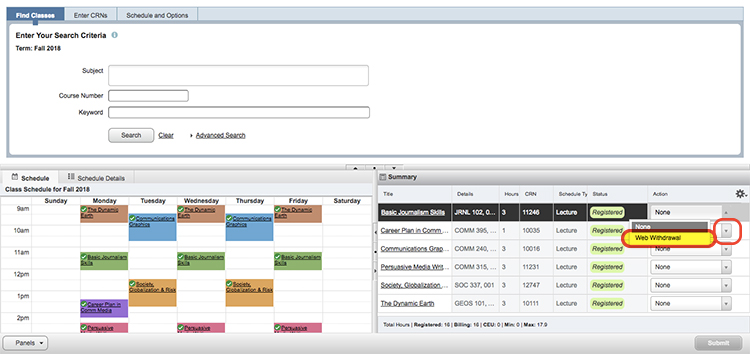 You are now withdrawn from the individual course.
How to Cancel an Upcoming Semester
Total University Withdrawal Policy