"A retired IUP faculty member has made a generous gift to the (libraries) to establish The Norma A. Beaumont Memorial Library Fund."
This quote, written by the donor specifically for the IUP Libraries' website on Giving to the IUP Libraries, modestly refers to the excitement that is presently being generated on the second floor of Stapleton Library.
Dr. Lee Beaumont, in remembering his loving wife, is also remembering his days at IUP as a faculty member. How wonderful the fresh look of twenty contemporary, roll-armed cube chairs, in pleasing upholstered patterns, are for the industrious student to settle into for a few hours of reading. In Dr. Beaumont's own words, his interest is in providing a lounge with "an impression of openness, (yet) a degree of privacy."
Norma A. Beaumont's life flourished during their years at IUP. Although she had not attended IUP as a student, she adopted the institution as her own. She was a loyal fan of the football team and rarely missed a home game. She attended student programs, including the legendary "Swing Out" performances and the Theater-by-the-Grove summer presentations. Joining other faculty wives, she participated in numerous campus activities.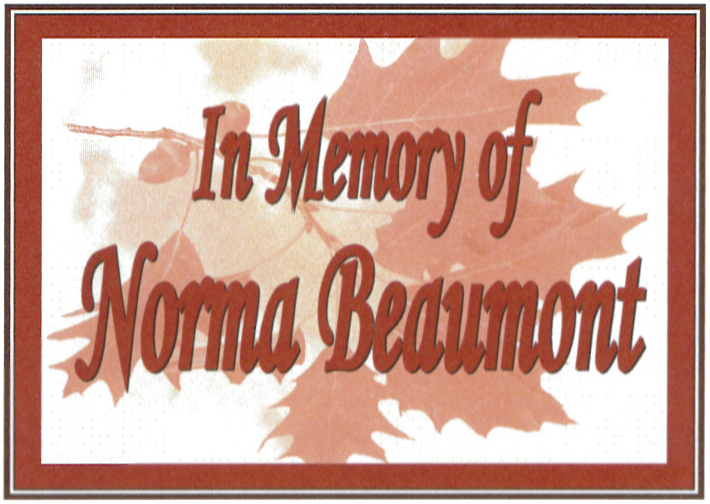 Norma was also active in the community. She was a volunteer at the Indiana Hospital and actively assisted in local and state political campaigns. She was commended by the Armstrong-Indiana Association for the Blind for her annual assistance in the visual screening program for pre-school children. Indiana County Public Schools also commended her for her work with children in special education programs.
After life as a military "nomad," Norma often commented that in Indiana she and Lee had at last found a home. Unfortunately, family problems forced the Beaumont family to leave Indiana in 1978. Norma died in May 2003. With the establishment of the Norma A. Beaumont Memorial Library Fund and the Norma A. Beaumont Alcove in the Stapleton Library, Norma has returned to Indiana.