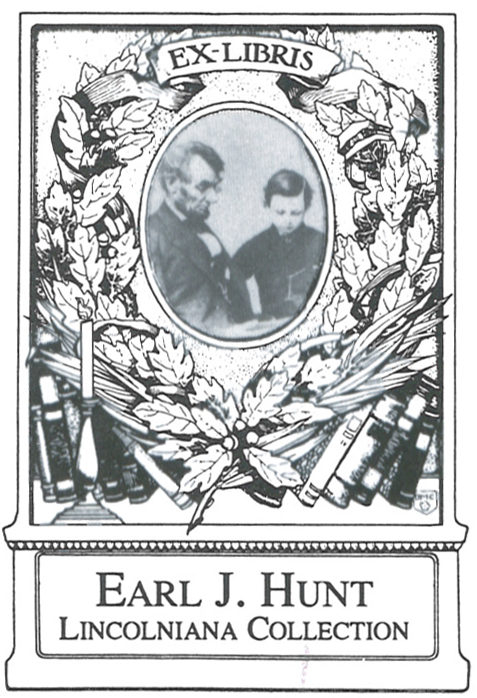 A native of Johnstown, Dr. Earl Joseph Hunt (August 1, 1928-July 9, 2008) was an optometrist who spent more than four decades compiling the contents of his Abraham Lincoln memorabilia collection, which he personally donated to the IUP Special Collections and University Archives. Hunt was born in Johnstown, Pennsylvania. He married his wife, Ann Douglass Salinger Hunt, who graduated from Indiana State Teachers College (IUP) in 1951.
Since Dr. Hunt began his Abraham Lincoln collection with a bust (a birthday present from his sister) in 1967, he has traveled the United States and Great Britain visiting historical markers and sites relating to his interest in President Abraham Lincoln memorabilia. Having displayed his Abraham Lincoln collection at various venues, including the Johnstown Flood Museum, Hunt decided to donate the collection to IUP. In 2004, Earl and Ann Hunt graciously donated what is considered one of the most extensive private collections of Abraham Lincoln memorabilia to the IUP Libraries, Special Collections and University Archives. Dr. Hunt passed away in Johnstown in July 2008.
The purpose of this collection is to increase the awareness of Abraham Lincoln's influence on American culture.This collection contains memorabilia, coins, signed documents, books, journals, pamphlets, Abraham Lincoln busts and statuary, drawings and lithographs related to the Civil War, commemorative plates, bottles and glassware, coins, and other memorabilia that document the role of Abraham Lincoln heritage in the nation's history. Abraham Lincoln (February 12, 1809-April 15, 1865) was the 16th President of the United States (1861-65) during the American Civil War. Most of the collection dates from the mid-20th century, but specific items and resources date back to the mid-19th century. One item of particular importance is the Civil War presidential pardon of Samuel Oldham Bacon (1848-1902), who was pardoned by Abraham Lincoln on February 1, 1865.