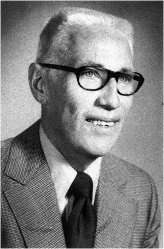 Charles A. Davis was a respected faculty member of the Music Department at Indiana University of Pennsylvania for more than twenty-nine years. A gifted musician, composer, performer, and educator, Professor Davis positively influenced the state of music and music education across the Commonwealth of Pennsylvania and the eastern United States. During his tenure at IUP, he collaborated with Professor Robert Ensley to develop and stage an annual spring musical theater production that became known as "Swing Out." He wrote and arranged music for the Men's Glee Club, the College Choir, the Mellowmen, the Four Chiefs, and the IUP Marching Band.
A 1934 alumnus of IUP, Prof. Davis received a master's degree from New York University and completed graduate work at Juilliard School of Music and the University of Colorado. He also served in the U.S. Army during World War II. Upon his retirement in 1973, he was awarded Professor Emeritus status by the Music Department and the university. He served as president and member of the Foundation for IUP Board of Directors. He received the Distinguished Alumni Achievement Award in 1976 and the President's Medal of Distinction Award in 1988.
The endowment for The Charles A. Davis Memorial Music Library Collection has been used since 1996 to purchase books, scores, and sound recordingsespecially in the areas of jazz, band music, and musical theaterin support of the educational work and research of the IUP Music Department.
Donations to support the Charles A. Davis Memorial Collection can be made to the IUP Foundation: account #0319.