Raising Your Sights to Help You Achieve Big Goals
Most college graduates know they need an internship as they head into the job market, so, to be competitive, you'll need to take it a step further. We encourage you to set your sights high.
To stand out, you'll want to pick the best internship you can get, one where you will have plenty of hands-on opportunities to show what you can do in your field. You may want to add a second hands-on experience, like working on research, presenting at a conference, studying abroad, or doing a second internship.
Supporting Opportunities for Honors College Students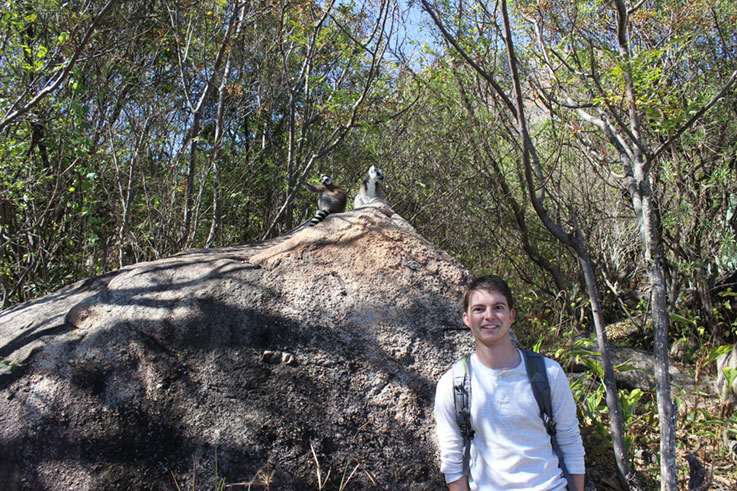 As you explore the kind of internship that will best fit your goals, we'll introduce you to options you may not know about, like doing an internship abroad or arranging to work for a community service agency through federal work study, giving you a paid way to gain intern-like experience in some fields.
A sought-after internship can be very competitive. You'll find the honors college staff and your core class faculty can be excellent resources for reference letters and for reviewing applications. If needed, you can apply to the Cook Achievement Fund to help offset the cost of the experience.
Cook Honors College Students Land Interesting Internships
Below are some other examples of honors college student internships and hands-on learning experiences.
Kyle Murray (pictured above), an anthropology major, couldn't find an internship that matched his interests until one of his professors, Amanda Poole, found one that fit him perfectly: a five-week field school based in Ranomafana National Park in Madagascar. Each day, he spent six or more hours in the rainforest doing research. He and his fellow students trapped small mammals, testing their blood and bodily fluids before marking and releasing them. His first night there, they handled about 70 small mammals. He was part of the research team when a parasite was discovered on a small sampling of the subjects—a new finding in the research.

Carlee Benhart, a regional planning major, completed two internships during two different summers. She was an intern for WalkWorks through the Indiana County Office of Planning and Development and was the GIS manager at Quaker Valley Council of Governments, where she managed GIS users, taught mapping and geocoding to employees, and created maps for municipalities. She received the Women in Transportation Graduate Fellowship to attend Carnegie Mellon University to pursue a Master of Science degree in Public Policy and Management following graduation.

Joe Kukula, an English education major, took part in the Philadelphia Urban Seminar. The experience included teaching students with disabilities at Widener Memorial High School and volunteering at a Philadelphia community garden by clearing brush, digging, and pulling weeds. At IUP, he published his writing in the New Growth Arts Review literary magazine, and ran open mic nights and a radio show. He also took part in a year-long collaborative student teaching assignment at Indiana Area Senior High School. He had four teaching job offers within a month of graduation.

Anthony Maticic, an accounting and economics double major, served as chief economist for the IUP Student-Managed Investment Portfolio, valued at more than $1 million. His instincts were part of a student effort that helped with the fund's success—outperforming the S&P 500 while he was in this leadership role. With help from the Cook Achievement Fund, he studied in Germany to learn about the intricacies of the European Central Bank. With other Eberly business honors students, he also took a two-week business course in India. Maticic had an internship at one of the big four accounting firms that led to a job offer after graduation.

William Harder, during his internship at Georgetown University's American Studies Institute on Political Journalism, researched and wrote articles about the Congo Basin, the eastern Himalayas, the Sulu-Sulawesi Seas in Indonesia, Malaysia, and the Philippines on behalf of the World Wildlife Fund. His work led to receiving the Frank Shakespeare Award for Political Writing and a subsequent job with World Wildlife Fund, which hired him to continue working on its Congo Basin Project.