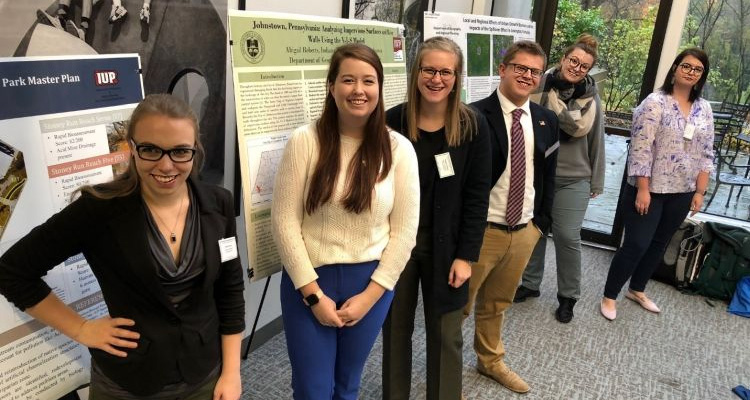 Students Attend and Often Present Research at Conferences
While other universities may reserve opportunities like presenting at regional and national conferences and publishing papers in journals for their graduate students, we help you get started early. Our undergraduate students receive amazing opportunities, with some students starting research with professors or attending conferences as early as their freshman year.
Here are a few student examples:
Madison Hendricks attended two conferences in one year—the Pennsylvania State System of Higher Education Honors Student Development Conference and the IUP Spring Methodology Conference on Foreign Language Teaching.

Linus Morales gave a lecture at a Chinese language pedagogy conference as a sophomore, speaking about his experience learning Chinese with synesthesia. After the conference, he was given the opportunity to write an article on the subject.

In the photo above, Honors College students Molly Sarver (far left) and CarleeBenhart (second from right) were among IUP students who recently attended the annual Pennsylvania Geographical Society meeting to present their research.
Students from a Variety of Fields Attend Conferences
Conferences attended by our students, who often are presenters, cover a broad range of fields. Here are just a few from the last few years:
Percussive Arts Society International Convention
National Conference for Undergraduate Research
Literacy in Early Childhood Development
International Congress on Neurotechnology, Electronics, and Informatics
American Association of Geographers National Geography Conference
Unite For Sight Global Health Conference
World Congress for the Scientific Study of Sexuality
Hispanic Literature Conference
Peoples Education Society International Business Competition
Pennsylvania State System of Higher Education Interdisciplinary Association of Philosophy and Religious Studies Conference
International Trumpet Guild Conference
Annual Model NATO
Commonwealth of University Biologists Conference
Society for Human Resources Student Conference (North East Region)