Sarah Crownover '20
Accounting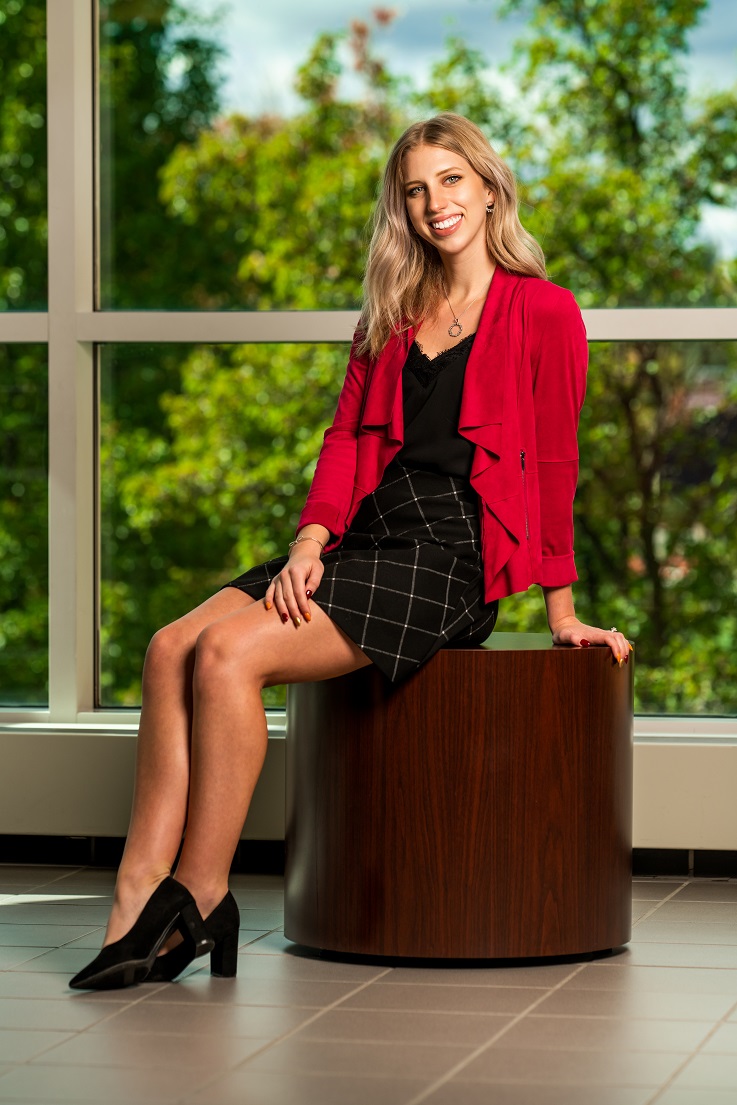 "It is hard to imagine life without the knowledge and experiences that the Eberly College of Business has given me thus far. I can honestly say that I am part of a community that will always push me towards success and support my accomplishments when I reach them. Between my professors who have served as a strong advocate for my abilities, even when I have doubted myself, and my peers who have taught me more than I ever imagined possible, I have found a place I that accepts me and has molded me into the person I strove to become.

"I am from Apollo, Pennsylvania, a small rural town, and graduated from a high school with a class of 75 students which made me value tight-knit friendships and community. Eberly, from when I first toured, showed me how much of a bustling community it is. There were people everywhere, and it appeared that everyone knew each other and were friendly to each other when just passing by. Once I heard of the small class sizes, study abroad opportunities, course load, and the perks of the Business Honors program, I was set on advancing my education and knowledge of the business world here. I felt that I could challenge myself in my classes while still getting to work in teams of students who I would be able to build relationship with. I also saw how much Eberly prides themselves in showcasing their own students on the walls of the building and by constantly inviting them back to campus to share their successes with current students.

"As a student, what I saw proved to not be an illusion. There were countless opportunities, amazingly helpful faculty, and such pride in the skills that Eberly gives all its graduates. I have been able to travel to India to meet students from IUP's partner school, make strong connections with many alumni in several different career paths, and take on leadership roles to build my confidence and leadership skills. In addition, I have attended many events with guest speakers that push me to work harder and harder each time to get to a place where I can someday give back to students as they give back to us. The education that Eberly has given me thus far has made me qualified to attend the Deloitte National Leadership Conference, which pushed me out of my comfort zone and gave me even more professional skills. These experiences, and many more, have shaped me into a businesswoman with a drive to work hard, the awareness to never forget where I came from, and the heart for philanthropy to give back just as those did before me.

"I am serving as the 2020 Student Accounting Association president. Prior to this leadership opportunity I was an active member, since I attended my first meeting freshmen year. Each speaker provided me more insight into what my future could hold, so I made sure to not miss a single one. Once the opportunity arose to take on a chair position, I jumped at the chance to represent the SAA in the College of Business Student Advisory Council.

"Since being elected the SAA president, I have assisted in creating a list of alumni speakers to invite back to campus so that they can share their professional experiences with current students in the Student Accounting Association. This has allowed me to continue to do one of the things I have developed a passion for and that is hearing the stories of alumni who were once in my shoes. It has helped me visualize what my future career could look like and has given all students an awareness of what to do to get to where the speakers are now. I also have developed more professional tendencies and etiquette with contacting professionals as well as confidence in my ability to be a leader of such a large group. As for the organization, I have been working with Dr. Anderson to bring back a wider variety of speakers. Instead of only bringing speakers from public accounting firms and limiting students to learning about one career path, we have lined up meetings featuring speakers who are graduates of law school, work in forensic accounting, are retired partners of a Big 4 accounting firm, and from banks. This diversity of men and women from these different options allow students to fully hear of what their degree can get them.

"My time in Eberly and IUP has been much more than just the Student Accounting Association. Eberly has given me the opportunity to attend the Women's Leadership program events, travel to India with the Discover India trip, meet alumni in Washington, DC and NYC, be a member of COBSAC, a member of the Business Honors program, and many more. Being an Eberly College of Business student has enriched my time at IUP a great amount, and I am thankful that I took advantage of every opportunity Eberly gave me. Even outside of Eberly, I became actively involved. My time at IUP has been spent being a part of Eberly organizations as well as a sister in Tri Sigma, where I took on several leadership positions, and as an IUP Ambassador.

"Being a mentor to younger students is one of the most impactful things that one can do. Given than I was mentored by a couple of upperclassmen to be steered in the right direction in terms of coursework, resources, and applications for internships and leadership programs has made me want to be a mentor for students who are new to Eberly and are curious as well as eager to get involved. Working in the Eberly Center for Leadership and Academic Student Success has given me an outlet to reach those younger students. I make sure to tell them how getting involved in Eberly has led to internship offers, connections, and professional development skills. Even outside the office, I spread the word of the difference being a part of an organization can make. As the SAA president, the SAA makes sure that word is being spread to freshmen of the opportunities the SAA presents, such as the Accounting Career Fair, Recognition Dinner, and all of our meetings. Spreading word to younger students has been my greatest contribution to Eberly's success, because if those students do not get involved, then today's leaders will not have someone to replace them.

"I would love to stay involved with Eberly after graduation and to give back to the college that has already given me so much. Hearing from so many alumni that are eager to travel back to IUP to speak has fueled excitement in me to be in their position someday. From alumni who were born, raised, and stayed to make an impact in Indiana, to those who live outside of Washington, DC and drive to IUP two weekends in a row just long enough to attend the SAA Recognition Dinner because they know how much students such as myself appreciate hearing their storythey are who I want to become. Just like them, I have developed an appreciation and love for the college that has shaped me into who I am today. I plan to come back as often as I can so that I can share any professional experiences I have with future students. I also, if someday given the opportunity, plan to give back financially because I know first-hand how important scholarships are to students' success."