Finance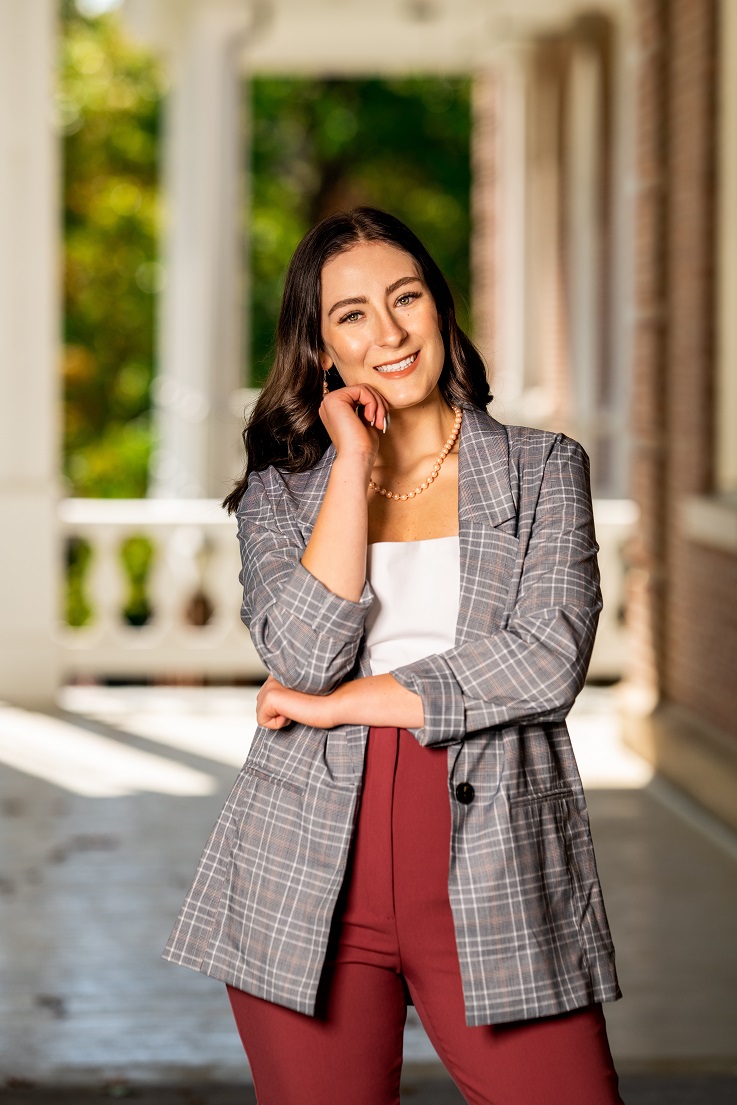 "Ever since childhood, I had big dreamsCEO of a Fortune 500 company, hedge fund manager, or senatorbut I did not know how to reach them. As a young girl, I did not see many female role models in these positions, so I struggled with direction. During my time at IUP, I have had the opportunity to gain a strong network of female leaders and mentors who are helping me to advance my goals. I have always been ambitious and hard-working, but Eberly has given me tangible resources and skills to emerge as a strong female leader.
"During my senior year of high school, I visited IUP and met with people from the Eberly College of Business and Information Technology. Even though I am from Indiana, I wanted to visit the college and meet people, and make sure that I fit the campus environment. I immediately felt at home, and it became clear the best decision was for me to attend IUP.
"During my time at IUP, I have been actively engaged in a variety of Eberly College and other campus activities. Eberly helps students to develop in countless personal and professional ways, and there are hundreds of exciting growth opportunities. I have taken advantage of many professional development, extracurricular, and networking activities that have made me a strong, confident, emerging female business professional.
"Eberly classes have challenged me to learn about essential core business concepts and to think critically and work with others to solve real-life business problems. My extracurricular activities helped me to put these business concepts into practice. My involvement as the chief compliance officer and Student Managed Investment Portfolio has further developed my presentation skills, report writing, and financial analysis knowledge. Involvement as an IUP Ambassador and work in Eberly's Women's Leadership program have also complimented my coursework as I have gained practice managing budgets, planning events, raising funds, and networking. The combination of course learning with campus activities have provided valuable growth opportunities and prepared me for my future career in business.
"My role as the Women's Leadership Program coordinator for the Eberly College of Business has been the most influential extracurricular activity of my college career. As I was finishing my first year, I started to feel the need for a women's organization in Eberly. As luck would have it, a few weeks later, I found out that Dr. Strittmatter oversees the Eberly Women's Leadership program. In late spring 2019 I reached out to her and expressed my interest in being part of this program. Fortunately for me, the current coordinator was graduating in May, and an opening emerged. I started as coordinator and spent the summer researching initiatives, attending women's leadership workshops, and consulting with mentors so I could bring back great ideas for the fall semester. In this position, I created and developed events for female students, so they have the necessary skills and knowledge to be successful in the workforce. These events have also provided a welcoming, inclusive, and diverse environment for female professionals in business. The classes in Eberly are top-notch, and all students that are willing to learn will have a great education, but developing soft skills is a vital part of success in the working world. Through this organization, I have helped female students gain the tools they need to be successful.
"One of my top goals was to create a stronger presence on campus. By partnering with other organizations, such as Women's and Gender Studies, on several programs, I am pleased to say that I was successful with this goal. This lasting partnership will be beneficial to future students, and I hope to see more collaboration in the future to help build even more female leaders across campus.

"My experience working in the Women's Leadership Program has taught me many practical skills such as event planning, budget management, and effective communication with diverse groups that I could not gain from just classroom training alone. I have also engaged in important networking opportunities with business majors, campus leaders, business alumni, and other business leaders. These strong connections with influential people will undoubtedly benefit me and other women in business in the future. As a very driven and career-oriented person, I decided that I would graduate after being a full-time student for only two years. My freshman year technically started in fall 2018, and I am graduating in May of 2020, so I have only served in this role for a year. However, this position has truly been the most influential extracurricular activity of my college career.

"As an IUP Ambassador, I understand the importance of being an engaged member of the alumni community. Indiana has always been my home, but being an IUP alumna will make it even more special. Even though I am moving to Pittsburgh to start my professional career, I plan on visiting the university to network with students and serve as a mentor and role model. The close geographic location will enable me to visit regularly, and I look forward to remaining connected with Eberly and campus activities."