April Murdick '20
Accounting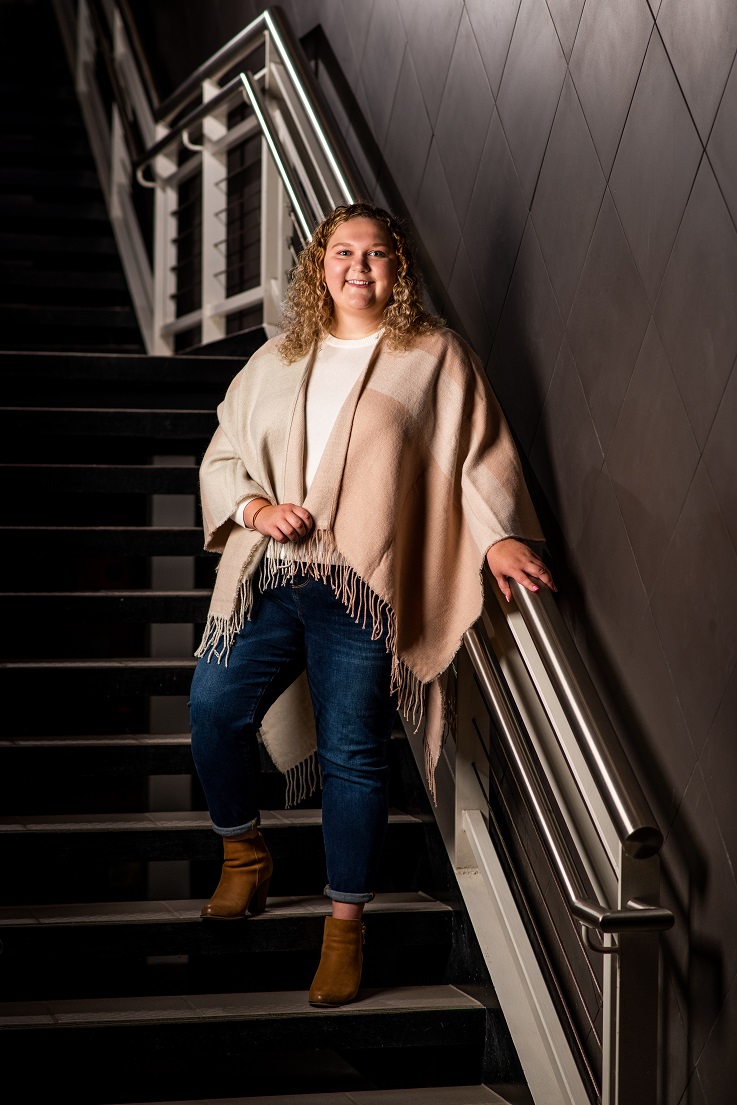 "The Eberly College of Business and IUP have always been a big part of my life. I used to visit IUP all the time for school events, and I even attended here for half days during my senior year of high school. I came to IUP as a first-generation college student from Marion Center, Pa., which is a small town right outside of Indiana. From the first time I attended class at IUP, I could tell that I was not just a number among many faces. There was a sense of community, and I instantly knew the professors truly cared for their students. That sense of ultimate care was the sole reason why I chose to attend IUP as a full-time student.
"Initially going into college, I knew I wanted to do business, but was not quite sure what major I wanted. Shortly after my first few weeks of classes, and with the help of an accounting faculty member, I decided that I wanted to be an accounting major. Due to being ahead in my course work, I was able to graduate in three years.
"During my short time at IUP I have been actively involved with the Eberly Business Honors Program, where I was a cohort leader my freshman and sophomore years, the Student Accounting Association, International Business Association, Phi Gamma Nu, and the College of Business Student Advisory Council. Without joining these organizations, I would not be the same person I am today. I have met all my friends from college through these organizations, and these organizations have allowed me grow into the person I am today.
"My involvement with the university goes well outside the walls of Eberly. The summer before my senior year, I was a Student Success leader. As a Student Success leader, this past summer I had the opportunity work with new incoming transfer and freshmen students. There I was able to inform these students all about the organizations that Eberly has to offer along with all the different events that are held each semester.
"Helping people has always been a passion of mine, and after working a summer of freshman orientation, I knew I wanted to help new students with their transition to college. My supervisor from orientation approached me about becoming a LEAD peer mentor shortly after she saw the passion I had during orientation. After hearing about the opportunity, I knew I would be a perfect fit. In this position, I mentor 16 freshman and transfer students. My students meet with me at least three times a semester to talk about how they are doing and what can they do to improve their studies and personal lives. Last semester, I hosted a Study Skills Session where students brought in their materials, and I taught them how they could study for their classes. This was beneficial for the students because it taught them how to successfully prepare for their exams. In addition to meeting one-on-one and programs, I hold study room hours in the library's Academic Resource Center at least two hours a week. This is time where my students can come and ask me questions or just sit and study with me. Being a peer mentor allows me to use my passion for helping people succeed. My position grants me the opportunity to network with younger students and aid them in joining organizations and providing them with information that will make them successful in their college career.
"Some of my favorite experiences as an Eberly student have been traveling and learning with my fellow classmates. Through the Honors Program I have visited Pittsburgh, Washington, DC, and India! Being able to visit these places has taught me more than I could have ever imagined. I have had the opportunity to network, learn new skills, and gain friendships from across the world.
"Upon graduation, I will be interning with BDO in their Core Tax Services Department and then attending IUP in the fall for my MBA."