Kelly Kumetis '20
Accounting and Finance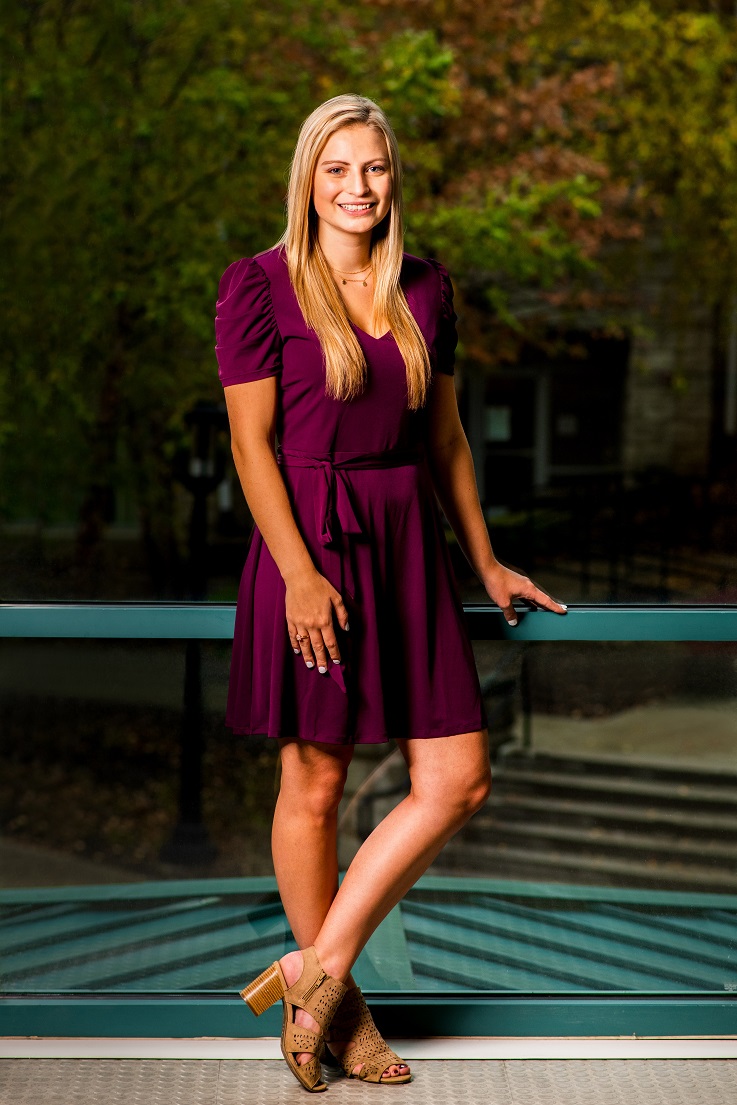 "The Eberly College of Business and IT has given me all of the tools that I need to be successful after graduation. With the help of the supportive faculty, I have been able to reach all of my goals in college and I will be able to go into the workforce confident in my abilities. Attending IUP was the best decision that I made, and I will forever be grateful for all of the support and opportunities that I have been given because of my decision to get my degree from Eberly.

"I am originally from Reynoldsville, Pennsylvania, a small town about one hour north of IUP. During my junior year of high school, I visited IUP when my brother was touring colleges. Even though I didn't step foot in Eberly, I knew that IUP was the college I wanted to attend. During my senior year, I toured the campus again and learned about the Cook Honors College and the Business Honors program and knew that IUP was the place that I wanted to call home.

"As a graduating high school senior, I didn't have a clear career path in mind. All I wanted to do was to travel the world and be successful in whatever career path I chose. I ultimately decided to major in international business because it would allow me to travel. My first semester here, I took an introductory accounting course and decided that accounting was the right choice for me.

"The past four years at IUP have completely changed my life and shaped me into the person I am today. My freshman year, I found myself signing up for a study abroad program. That decision led me to spending six weeks of my summer hiking across Spain learning about Spanish culture, but more importantly, learning more about myself. I came back from Spain with a different perspective on life. After that experience, I signed up to spend 10 days in India and another 10 days in Norway during my junior year. Seeing other countries and experiencing different cultures has opened my eyes to what life is like outside of Pennsylvania and the United States. The global outreach of Eberly and IUP is incredible, and having multiple opportunities to study abroad has helped me further my education outside of the classroom.

"Being a part of the Cook Honors College and the Eberly Business Honors Program has allowed me to grow alongside peers with the same goals and work ethic that I have. With guidance from mentors that I found within these programs, I joined multiple student organizations throughout my college career. Being a part of organizations such as the Student Accounting Association, Phi Gamma Nu, Student Managed Investment Portfolio, and the College of Business Student Advisory Council allowed me to develop skills that I will use after I graduate.

"The student organization that I was most passionate about was the Student Accounting Association. The SAA allowed me to network with successful alumni and to learn about all the career choices that are available to me after graduation. I joined the Student Accounting Association my freshman year and have been an active member since then. During my first year in the organization, I visited Deloitte with a group of other SAA members, and it opened my eyes to public accounting. After that trip, I knew that I wanted to work for a big four accounting firm following graduation. With the help of the faculty advisor, I got in contact with a recruiter for another big four firm. It eventually led to an interview, internship, and ultimately a full-time position.

"The SAA allowed me to grow immensely my first two years at IUP, and I knew that I wanted to help other students reach their full potential and find a field of accounting that they enjoyed like I did. Because of this, I became the field trip chair my sophomore year. I organized numerous field trips to allow students to explore all the potential career paths they could follow after graduating from IUP. Following my one-year term as field trip chair, I became the senior vice president. In this position, I helped the faculty advisor organize the annual Recognition Dinner, which is the largest recruiting event for accounting at IUP. After a semester of planning and communicating with recruiters and professionals, we were able to host a record-breaking 77 professionals from 33 different companies for accounting and finance students to network with. This experience allowed me to grow professionally, and I hope that my contributions helped other students find a career path that they could excel in.

"As a member of the Eberly Business Honors Program, I acted as ambassador to the college on numerous occasions. I represented the college in many alumni events held at IUP and during company visits and other events in places like Pittsburgh, Washington, DC, New York, Charlotte, India, and Norway. These business trips gave me the chance to network with IUP alumni and professionals and gain insight that will help me after I graduate and start working full time. All these experiences have allowed me to grow as a student and a professional.

"After graduation, I hope to remain involved on campus and within Eberly. Alumni coming back to campus and interacting with students is instrumental to success, and I hope that I can continue to help Eberly students succeed throughout their college careers. One of the main reasons for my success during my time in Eberly was because of alumni giving back through their time and resources. I want to continue coming back to Eberly to speak at Student Accounting Association meetings and to participate in the Recognition Dinner every year to help future students have the same opportunities that I was given. I was able to travel to different cities and other countries with the help of generous donations from alumni, and I want to give back to the college so that future students can have the same experiences that I did."