Maria Hoge
Management Information Systems Major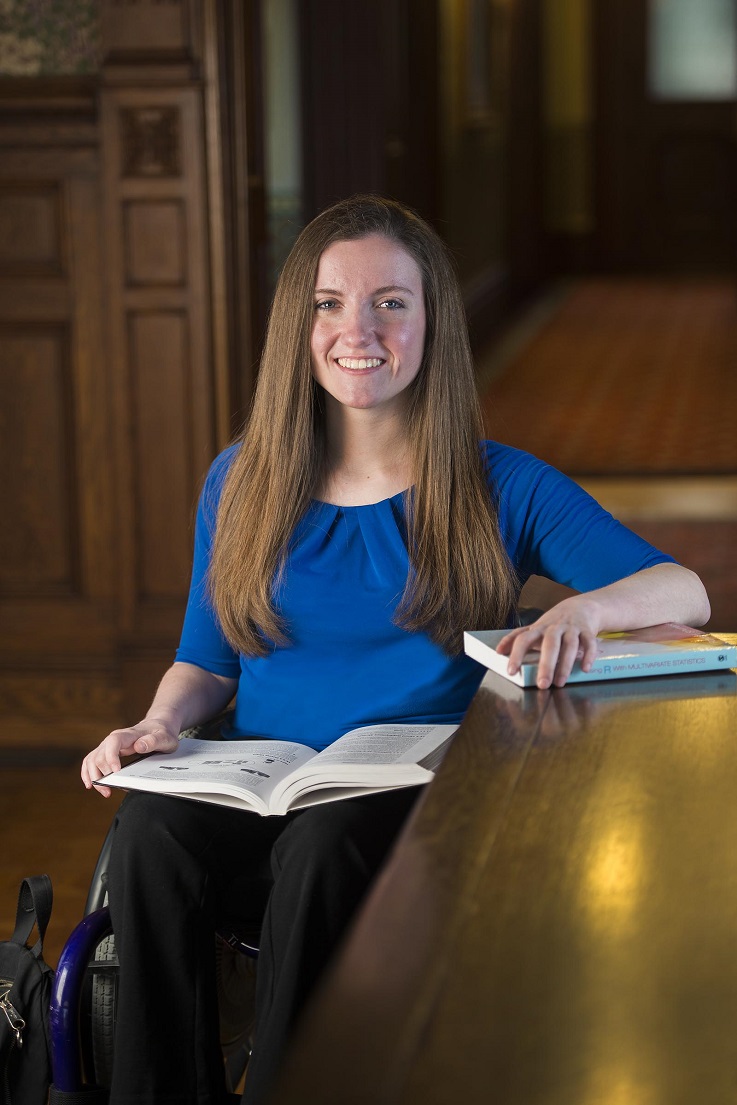 "My experiences at IUP and in the Eberly College of Business and Information Technology have far exceeded my expectations. The faculty and students go above and beyond to create an ideal learning environment. The people that I have met, the knowledge that I have learned, and the skills and experiences that I have gained will help me throughout my career.
"Growing up in Venetia, Pennsylvania, I have always been interested in learning more about technology. When it came time to apply to college, I set out to find a university that offered my major of choice in a rigorous academic setting with appropriate disability services and accessibility. I finally found what I was looking for at Indiana University of Pennsylvania. After touring the campus and receiving my acceptance into the Cook Honors College and the Eberly Business Honors program, I realized that this was the place for me.
"In hopes of getting better acclimated to campus before starting a full semester, I enrolled in the Sutton Scholars Summer Academy, which offered me the opportunity to adjust to college courses and to get excited about the material that I would be learning for the next four years. I was also able to secure a student worker position in Eberly, get ahead in my coursework, and overcome the challenges associated with living independently for the first time. With newly acquired confidence, I started my freshmen year even more determined to excel in my studies and get involved on campus.
"If I were to pick one organization that best represents me, it would be the IUP Ambassadors, an organization that serves as a liaison between prospective and current students and alumni. Since being accepted into the organization in the spring of my freshmen year, I have served on the student engagement committee. As a member of this committee, I have primarily focused my efforts towards assisting the organization in engaging with prospective and current students. This involves participating in a wide array of university-wide events, which include, but are not limited to: Salute to Grads, Philanthropy Day, Crimson Huddle, and Academic Expos campus tours.
"The weekend before of start of the fall 2017 semester, I was asked to fill an unexpected vacancy on the Ambassador Executive Board as the historian. Grateful and excited to have this opportunity to be more involved, I dove right in, devoting several hours every week to ensure that I kept up with the position's responsibilities while simultaneously pulling together all the loose ends left of last semester. As the historian, it was my responsibility to accurately record attendance at organization events, update the membership databases, maintain social media accounts, and re-establish the tradition of creating and distributing an Amblast newsletter on a bi-weekly basis. On top of my own personal executive board responsibilities, I devoted time weekly to assist with inputting for the Tuition Raffle fundraiser and continued to stay engaged with the student engagement committee.
"Looking back on my time as an Ambassador, it is apparent to me that this organization has proven to me that the more energy that I put into something, the more I can gain from the experience. Through my involvement I have grown exponentially, both on a personal and professional level. Working alongside some of the most well-rounded, successful students on campus and distinguished IUP alumni, I have been able to build professional connections, further develop my leadership skills, and improve my interpersonal skills. From the very beginning, the members of this organization welcomed me with opened arms. Joining the IUP Ambassadors changed my collegiate career, and I always be grateful for that.
"After my first year at IUP, I had established myself as an active IUP Ambassador, a regular volunteer usher for the Lively Arts, and was selected to be an Honors College orientation leader for the upcoming fall. As time continued to progress, everything started to fall into place. I declared a dual concentration in information systems and technology and a minor in applied statistics; joined the Association of Management Information Systems, Beta Gamma Sigma, and Phi Gamma Nu; and interned at the US Department of Education.
"My experiences at IUP have taught me much about myself as a student and a professional. The academic rigor in the Honors College has set new challenges and continually raised the bar, encouraging me to become a more proactive student. I have become more confident in talking to my peers and coworkers because of my classes and activities. IUP has provided a place for me to grow and develop into a young adult, ready for whatever comes after graduation."