Kate Bedont '18
Finance Major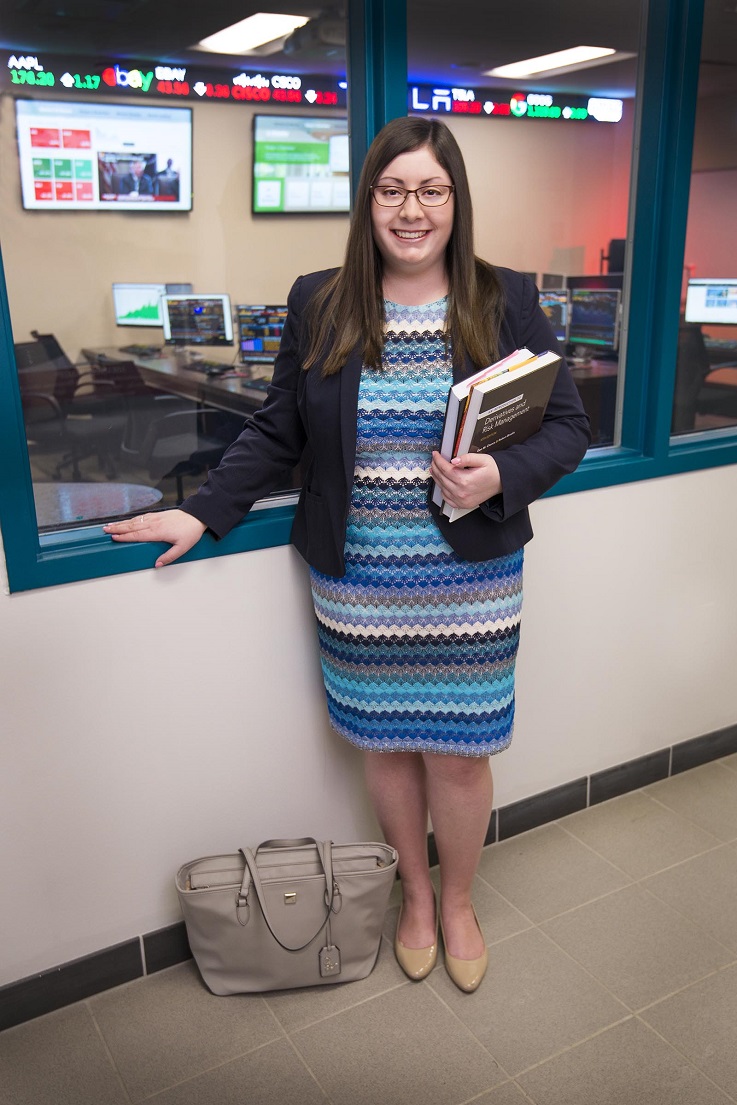 "The Eberly College of Business has been a cornerstone of my success at IUP. The support and encouragement from Eberly's faculty and staff surpassed my expectations and has provided me with confidence in my professional abilities and knowledge of the financial industry. Furthermore, I was blessed to be surrounded by intelligent and kind peers who shared similar interests in the business world and who will form a strong network upon graduation. I thank God every day for the opportunity to have been a part of the Eberly family, and I pray for continued success of the program that gave me countless opportunities.
"I grew up just 55 miles south of Indiana, Pennsylvania, in the town of Windber. My parents raised my brother and me in a loving home where we were encouraged to do our best, work hard, and praise God in both good and bad times. Throughout high school, I was involved in numerous clubs and held various leadership roles. In choosing which university to attend, I knew I wanted a place that would allow me to have those same opportunities. IUP was a perfect fit. I was accepted into the Business Honors Program, which gave me a multitude of leadership experiences and networking opportunities. Furthermore, I was able to be a part of Cru at IUP (a Christian campus ministry group) and was able to gain valuable leadership experience as their worship team leader.
"I decided to major in finance during my sophomore year, and it was one of the best decisions I ever made. I further realized my potential in this field when I joined the Student Managed Investment Portfolio, which manages approximately $1.6 million in funds provided by the Foundation for IUP. As a finance major, SMIP allowed me to gain valuable investing experience, while also providing me with practical knowledge to take into the workplace. I was fortunate enough to hold the position of financials sector leader through the last three semesters, where I was responsible for mentoring and teaching my sector analysts. I have developed patience and gained much respect for instructors through this experience, and found that I enjoy teaching others about subject matter of which I am passionate. SMIP pushed me out of my comfort zone, but for that, I am grateful. It was because of SMIP that I received my initial interview for an internship with PNC Bank in Pittsburgh. Upon completion of the internship, I was able to contribute my experiences and newfound knowledge of financial regulations and the industry to both the analysts in my sector and to SMIP as a whole. Overall, SMIP has benefited me greatly, just as I hope to have been beneficial to its success in the last two years.
"As I look back on my time at IUP, I realize that I am blessed to have been a part of such a wonderful university. My overall experience in the Eberly College of Business has been both rewarding and challenging. I cannot say enough about the wonderful faculty and staff who are always willing to answer questions, help with resumes, and give words of encouragement. I will begin my professional career in August as a financial analyst in the Finance and Accounting Development Program at PNC Bank in Pittsburgh. Even though it is sad to be leaving the place that I have called home' for the last four years and the friends that I have made along the way, I look forward to a time when I can come back and share my experiences and advice with the next generation of students."