Michael Hoare '18
Finance Major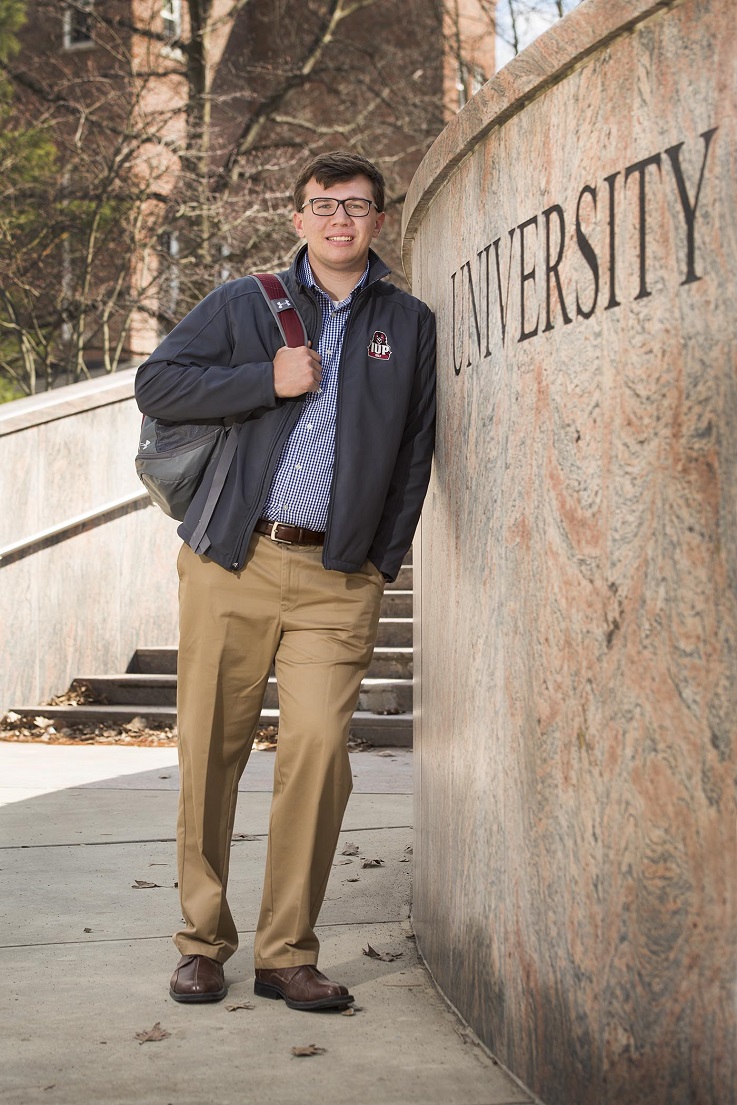 "What strikes me the most about my experience at IUP and Eberly is the number and quality of leadership opportunities. By taking advantage of every opportunity I could, my experience at IUP has been extraordinary. I am proud to be graduating in the 2018 Business Honors Cohort as an All-American Scholar-Athlete, a community assistant, a SMIP financial analyst, a research assistant, and a global traveler to India and Norway. Through the opportunities that IUP and Eberly has offered to me, along with my academic ambitions, I am proud and confident that my undergraduate education has prepared me for my career.
"I chose to attend IUP for two reasonsthe acclaimed business honors program and the successful golf program. I am from Mechanicsburg, Pennsylvania, and in the summer after my junior year of high school I won the prestigious Pennsylvania Junior Golf Championship. As a result, I started to get recruited from several NCAA Division I schools. However, after much research and thought, I chose IUP. First, I knew I wanted my education to be my top priority. Hence, I learned that the Eberly College of Business is accredited by the AACSB International (Association to Advance Collegiate Schools of Business), which is the premier accrediting agency for collegiate business programs. This could be considered analogous to a school participating in NCAA Division I intercollegiate athletics or a corporation having its stock listed on the New York Stock Exchange. I also visited IUP, met and discussed the Business Honors Program with the assistant dean, and saw first-hand the state-of-the-art Eberly business complex. Second, I met with the IUP golf coach and learned that the golf team has the second most NCAA championship appearances in NCAA history and numerous PSAC golf championships. Consequently, I felt that IUP was the place where I could pursue my academic ambitions and be part of a highly successful golf team.
"During my time at IUP, I was twice named an All-American Academic Scholar. Moreover, I learned invaluable interpersonal and communication skills while working for three years as a community assistant (CA). This included working in the living-learning residence of Stephenson Hall, which focuses specifically on business students. Also, I gained hands-on experience as a financial analyst for the Student Managed Investment Portfolio. Moreover, I participated in my first international trip with the Discover India program and expect to be part of the educational Discover Norway trip this spring.
"One of my significant activities at IUP has been my work experience as a CA for three years. In my senior year, I was responsible for supervising 77 residential students in Stephenson Hall, junior year I supervised 104 students at Northern Hall, and in my sophomore year I supervised 64 students at Suites at Pratt. As a CA, I have grown personally and professionally more than I ever imagined.
"In performing my duties as a CA as best I could, I learned invaluable interpersonal skills and a great deal about myself. I learned time management skills to manage my academics, golf, and work, while still finding time for friends and family. I learned crisis management skills because as a CA I often have to think on my feet.' Most rewarding, however, is knowing that I have helped students succeed at IUP, in even the slightest way. Whether or not freshmen are willing to admit it, they are scared when they first come to university, as I recall I was. They look to their CA for guidance, to be role model, where to go on campus, and for help with social situations.
"Finally, after graduation I plan on continuing my education at Virginia Tech to obtain my master's degree in Business Analytics."