Jacobo Diaz Alejano
International Business and Economics Majors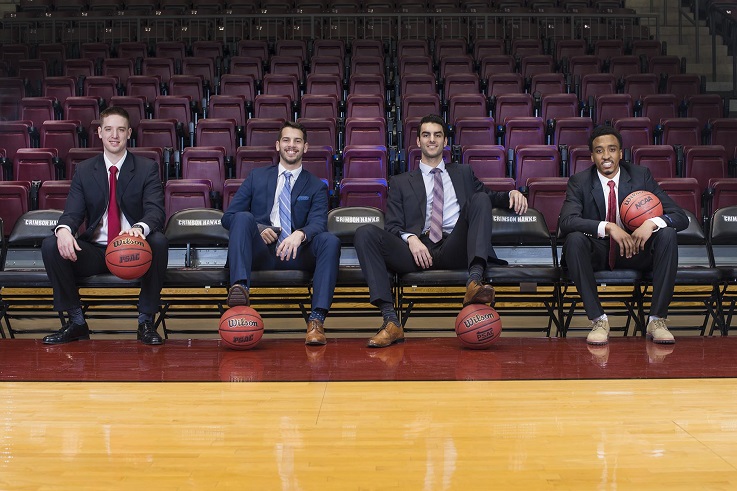 "Attending college in another country has been a significant transition in my life. I am often asked for reasons behind my decision to attend IUP when I may have had opportunities elsewhere. My answer to that question is quite simple; IUP is my home away from home and it makes being a continent away that much easier. As it relates to my choice of majors, I find that the Eberly College of Business challenges me by providing a hands-on learning environment and endless support from my professors and peers, all while keeping me grounded and motivated.

"The business curriculum will help me not only reach my goals, but far exceed them. Not only are the educational programs part of IUP's appeal, the athletic program, specifically basketball, has a meaningful role as to why I am proud to be a student at IUP. Regardless, if I am at the library focusing on my education or practicing to improve my basketball skills, IUP remains a place I'm proud to call home.

"I was born in Madrid, but when I was only three months old my family moved to Tenerife, which is a part of the Canary Islands. I attended a private school until I turned 15. At that age I was provided with the opportunity to leave home and further my studies in Madrid, where I enhanced my basketball career. After graduating from high school, I knew that I wanted to continue to play basketball while advancing in studies related to economics and international affairs. My international background allowed me to have the motivation to leave Spain and study overseas. In relation, studying economics and international business were a natural fit for my choice of double major.

"I chose IUP over other universities because, for me and my family, education always comes first. Eberly College, which is accredited by AACSB, offers one of the best programs, and I feel honored to be a part of it. IUP provides an authentic atmosphere for international students and really makes me feel like I am at home.

"I am going to be entering my senior season as a member of the IUP men's basketball team. My experience through the first three seasons could not have been better. Being a part of this team allowed me to connect with so many different people and travel to places I have never been. I am grateful to have had the opportunity to experience such humbling emotions from IUP that I will never be able to pay back. IUP men's basketball is a culture that has been carried through student athletes for so many years. Not only do we perform well on the court, but every student also exceeds in the classroom. It is satisfying to see the impact you have on other people, especially to those who are younger. Performing volunteer activities within the community also shows how committed the basketball team is to IUP and what value we stand for. I cannot express into words how thankful I am for having this opportunity. IUP has benefited me tremendously and allowed me to grow in ways I did not think were possible.

"Being a student of the Eberly College and an All-American basketball player has made myself and my family very proud."