Ivette Spradlin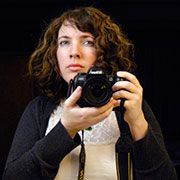 Visual Arts Photographer
Home Partner: Pittsburgh Center for the Arts
E-mail: ivette@ivettespradlin.com
Phone: 404-313-0906
View Ivette's Gallery
View Ivette's website

Artist Bio:

Ivette Spradlin received her BFA in photography and a minor in mathematics from the University of Georgia in 2000 and her MFA in photography from Tyler School of Art, Philadelphia, Pa., in 2007. Prior to graduate school, she worked with two artist book presses, Nexus Press in Atlanta and Women's Studio Workshop in Rosendale, NY. She also volunteered at a women and children's shelter in Atlanta working alongside an art therapist creating art projects for the children.

After completing her graduate work in 2007, she has taught photography and digital imaging at several of the colleges and universities in the Philadelphia and Pittsburgh regions, including the Tyler School of Art and Carnegie Mellon University. Aside from her college teaching, she has participated in several residencies in the Pittsburgh region, integrating photography into the social and physical sciences as well as math.

Her professional photographic work focuses on subcultures and the spaces they inhabit, from punks and skateboarders to Cuban exiles in the United States. Her most recent project, Everything Changed, Then Changed Again, documents women in transitional Pittsburgh areas and explores her own renewal. In 2012, this project was featured in solo shows at Pittsburgh Filmmakers and the Center for Emerging Artists in Philadelphia. Images from this work will also be featured in the September 2012 issue of a U.K.-based contemporary ne art photography magazine, Next Level.

In 2013, Spradlin was awarded a Flight School Fellowship and a six-month exhibition at the Greater Pittsburgh Arts Council as part of their Art on the Walls program.

Artist Statement

"The innate desire to put down roots and to forge relationships with others is a universal experience that all humans share. What is that nagging need inside us that fuels this itch to connect with one another and our surroundings? What is in the human spirit that craves a place to belong?

My photographs and videos capture the spirit's intrinsic need to create a sense of comfort, safety, community, and a place to call home. Whether shot in the West End warehouses of Atlanta, Georgia, or the raw streets an starkly traditional homes of Cuba, I catch glimpses of how people from diverse backgrounds and life experiences search for a place of familiarity. My images illustrate how individuals evolve during this bonding process and how that bond profoundly impacts our psychological and emotional states."
~Ivette Spradlin