Sandra Trimble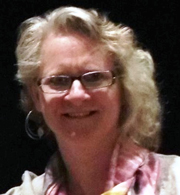 Crafts Fiber Artist
Home Partner: ArtsPath
E-mail: sandye60@gmail.com
Phone: (724) 388-3773
View Sandra's Gallery

Artist Bio:
Sandra Trimble earned an associate degree from the Art Institute of Pittsburgh, and continued her education with a BS in Art Education and a MA, both from Indiana University of Pennsylvania (IUP). She has taught art at various institutions and school levels, including St. Athanasius Catholic School, Homer-Center Elementary School, ARIN Intermediate Unit, Seton Hill University, IUP, and the Fiber Arts Guild in Pittsburgh.
While a public school instructor she was recognized as the Excellence Foundation Teacher of the Year in 1997 and presented at curriculum development conferences, as well as the Academic Alliance in the Arts. She is also published in the magazine Art & Activities.
As a Pennsylvania Council on the Arts rostered teaching artist who specializes in figurative sculpture and liturgical woven goods, she has over 14 years of experience, having facilitated residencies at schools from elementary to secondaryincluding highly successful residences at IUP in the College of Education and Education Technology with pre-service teachersto community-based residencies with seniors. She has also held residencies in the Alpha program at the Indiana County Community Guidance Center with special needs youth.
As an artist, her works have been exhibited at many events and juried shows, receiving numerous awards for her creative designs and soft sculptures. They include the Southwestern Pa. Council on the Arts Annual show in Ligonier, Pa.; the IUP Museum; the Artists Hand Gallery in Indiana, Pa.; Southern Alleghenies Museum of Art; Seton Hill University in Greensburg, Pa.; Bottle Works-Ethnic Arts Center in Johnstown, Pa.; the APEX Gallery in Washington, D.C.; the Woman Made Gallery in Chicago, Ill.; and the collection of Sean Keegan in Paris, France, to name a few.
As an arts administrator, Sandy was the board president for the Indiana Arts Council for five very successful years, and is currently the manager for the Artists Hand Gallery in Indiana, Pa.
Artist Statement:
Sandy is most interested in sharing the creative aspects of fiber processes with students in the context of holistic learning. Her focus when working with students is on process. She believes that students should enjoy how things are created in order to be able to explore materials freely; the end result will take care of itself. As a former elementary teacher, she enjoys seeing how children and adults make the connection between art and learning in core subject areas.