Martha McKinley Murphy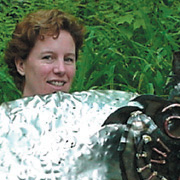 Visual Arts Metalsmith
Home Partner: Southern Alleghenies Museum of Art
E-mail: m3@wakingbearstudio.com
Phone: 910-880-9274
View Martha's gallery
View Martha's website

Artist Bio:

Martha McKinley Murphy is a native Pennsylvania artist who has been painting and drawing since age seven. She incorporates humor, joy, and love in each piece she makes. After years of being a painter, she was given a torch set and it opened up a galaxy of work and possible creative venues.

Martha holds a BA in English and Fine Arts and incorporates these two media whenever she can. Her newfound respect for steel and various metals has allowed her to build a career she never thought possible.

Martha also works as an artist-in-residence for the Southern Alleghenies Museum of Art and ArtsPath at IUP. Along with her residencies, she has about 55 galleries and shops across the U.S., and even in the Virgin Islands, that purchase her work. She is currently illustrating a book, walking her dogs, and riding her horses to catch a breather now and again.

Statement by Artist: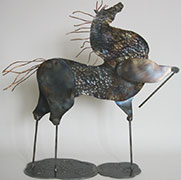 "What am I doing and why am I doing it? These are questions an artist asks many times over the course of a lifetime. As we change and grow, re-focus and re-direct our energies, we reinvent ourselves. My artwork is an extension of myself.

I am using white earthenware clay and underglazes, pencils, crayons, and markers as materials. I am also employing wood, grout, and paint for my mosaics. My work is slab constructed and bisque fired to cone 0/4. I then use the bisqued piece as a canvas on which to present my stylized, often figurative imagery. The colors I use are bright and the patterns bold. I often use symbols and details to cement more intimate meaning to my works, and I employ the use of words to create and complement the imagery I present. Themes of joy, celebration, empowerment, romance, environment, and self-awareness are some of my favorites to explore The glazed work is then fired to cone 0/5. My work is whimsical and serious at the same time. I hope that people see a little of themselves in my figurative imageryas they could be, should be, and may someday be.

My studio space is small, about 700 square feet, and I work unassisted. I occasionally need boards cut for backing mosaics, but other than that I do everything myself, from rolling the slabs and constructing each piece, to the final stages of glazing and sometimes grouting. Mine is not a production studio. Each piece, from the smallest tile to the largest mosaic, is handmade. Retaining my artistic integrity is important to me. I want each piece I make to be unique and to carry my artistic handprint.

I enjoy dealing with color and pattern, order and disarray, rough edges and soft lines. I try to achieve continuity with repetition and to create chaos with unexpected color changes and patterns. I employ all the elements of the visual arts and combine them with the written word using alliteration and consonance, rhyme, and rhythm to create new images in the mind of the beholder and to create multifaceted artworks that venture beyond the decorative and delve into the realm of symbolism and personal significance."
~Martha McKinley Murphy