Marianne M. McAuliffe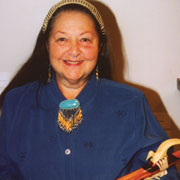 Folk Arts Music/Art
Home Partner: Southern Alleghenies Museum of Art
E-mail: mmcauliffe123@gmail.com
Phone:(412) 817-9346

Artist Bio:

Marianne McAuliffe has been studying Native American culture most of her life. Her love affair with art began at an early age while attending the Arts League in Rector, Pennsylvania, under the tutelage of Lucille Banks and Pearl Reed. An admitted perpetual student, she has attended classes in Crow Canyon Archeological Center, earning credits from the University of Colorado, and Westmoreland County Community College, where she received an associate's degree in liberal arts.

Several prolific teachers have imparted her with valuable hands-on knowledge, including R. Carlos Nakai, Navajo/Ute of Montana. Nakai introduced her to the magic of the Native American flute as well as teaching her leather working and art and philosophies held by the indigenous people of this nation. Drs. J.T. Garrett and Michael T. Garrett, both of the Eastern Band Cherokee, educated Marianne on the way of the Cherokee life. She is currently learning the Cherokee language and more about the people.

She is a member of the International Native American Flute Association and the National Storytelling Network. She routinely attends conferences and presents workshops all over the U.S. She performs and lectures extensively throughout the region and has performed original flute music on a PBS documentary. Marianne creates unique programs so that her residencies cater to all agespre-school through adultand can integrate her work into virtually any subject taught in the classroom. She is also delighted with her success as a facilitator in the arts-for-healing arena.