Rebecca Perry-Soike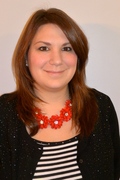 Visual Arts Ceramicist
Home Partner: Artspath
E-mail: Rebecca.soike@yahoo.com
Phone: 407-276-7688
View Rebecca's Gallery


Artist Bio:

Rebecca Perry-Soike holds a BS in Art Education from the University of Central Florida and a MS in Multidisciplinary Studies with a concentration in Ceramics and Museum Studies from the State University of New York, Buffalo State College. She has also studied through West Virginia University at the Jingdezhen Ceramic Institute, Peoples Republic of China, and in Siena, Italy, through the Buffalo State College Siena Program.

Rebecca is a ceramic artist who draws inspiration for her work from many different areas. Her main focus is midrange porcelain in combination with various glazes. Her artwork represents a contemporary combination of old and new ideas blended with her own personal touch. Her work is influenced by techniques and training she received when living and studying abroad in Italy and China.

Since 2004, Rebecca has exhibited her work in a variety of galleries, including the Czurles-Nelson and Margaret E. Bacon galleries in Buffalo, New York, as well as the Burchfield Penney Art Center; Southern Alleghenies Museum of Art in Ligonier, Pennsylvania; Art Works in Johnstown, Pennsylvania; Mudfire in Decatur, Georgia; the Istituto Statale d'Arte Duccio di Buoninsegna in Siena, Italy; and most recently the 28 West Second Gallery in Greensburg, Pennsylvania.

Her current gallery representation is Mantis Gallery in Jeannette, Pennsylvania, MudFire in Decatur, Georgia, and Nemacolin Woodlands in Farmington, Pennsylvania.

Rebecca is highly motivated by the educational potential of the arts. She believes in the power of the arts to help students express their creativity and expand their cross-subject knowledge. She sees the opportunities for art lessons to reach beyond producing a piece of art to include aspects of history, critical thinking in the work process, as well as self-reflection and expression.


Artist Statement:

Within my work I seek to portray concepts of serenity, ceremony, and the human condition. Containing the essence of being human as it relates to the constant search for meaning in life here and beyond, my figurative pieces and objects themselves provide physical evidence of devotion and what is important.

I invite the viewer to connect with the figures, explore the hidden symbolism, enjoy the ornamentation, and feel the serenity.