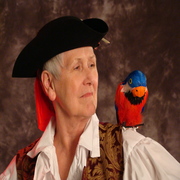 Folk Arts Storyteller
Home Partner: Galaxy
E-mail: jankinney1235@gmail.com
Phone: 814-943-1080
View Jan's gallery

Artist Bio:

Jan Kinney's biography might begin, "One bright December day, a little baby girl was born. No sooner did she slide into this world than her mouth started flappin', and it's been flappin' ever since."

Her love of story directed her to a career in library science. One fateful day, however, she heard a professional storyteller and her life changed. Within five years, she earned a Master of Education degree from Penn State University, retired from library work, and started telling full time.

Jan has studied her art with some of the greatest storytellers in Ireland and Wales. At home in Altoona, she initiated the summer ghost story sessions at Baker Mansion and the monthly storytelling programs at the Altoona Library and founded the storytelling group ASOP. She has produced three audio tapes with two more in progress and is the cofounder of Stories in Motion, a storytelling and modern dance collaboration. She has appeared at many major storytelling festivals in the eastern United States and has been in the Pennsylvania Council on the Arts Artists-in-Education Directory since 1992, offering a variety of storytelling programs, class visits, and workshops for adults and children. Also, Jan has been chosen to participate in the Pennsylvania Humanities Council's Commonwealth Speakers Program for 2006-2007.