The Writing Center in 203 Stabley Library
The Writing Center's main campus location is 203 Stabley Library. Stabley is located within the University Libraries complex in the Oak Grove. 
Appointments can be scheduled by visiting the Academics tab in MyIUP, or walk-ins are welcome.
Regular Semester Hours
Sunday, 4:00-8:00 p.m.
Monday-Thursday, 9:00 a.m.-10:00 p.m.
Friday, 9:00 a.m.-12:00 p.m.
What's here?
A quiet, comfortable computer lab
Trained peer tutors ready to help you with a paper
Computers that run the Microsoft Office and Adobe Master Collection suites
Black and white/color printers
A small library of reference books (e.g., APA and MLA citation guides)
Sample résumés and CVs
The Online Writing Center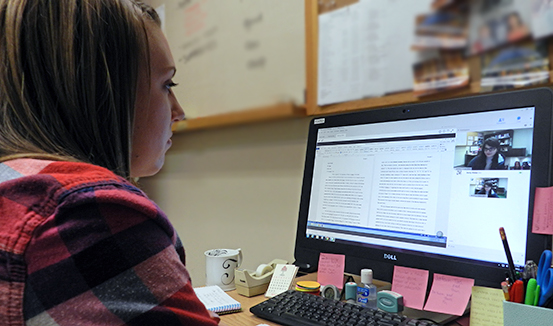 You can get help with your paper online from a Writing Center tutor. Appointments are offered in a synchronous format (via Zoom) or asynchronous (eTutoring). 
Appointments must be scheduled at least two hours in advance. To learn more, visit our Meet Us Online page, or, to schedule an appointment, please visit the Academics tab in MyIUP and select 'schedule a writing tutorial'. 
More Writing Help
The Kathleen Jones White Writing Center provides tutoring services, workshops, and writing resources.
Resources
Online help with