The IUP Writing Center conducts thousands of one-on-one tutorial sessions every year between our trained peer tutors and IUP student writers of all ages, skill levels and educational backgrounds.

These are the stories of few of the student writers who take advantage of the Writing Center on a regular basis to improve their writing.

Dan: Building Confidence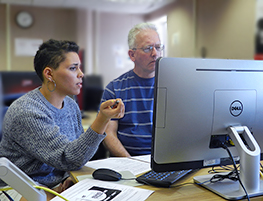 Many of the students we work with aren't traditional college students. Dan frequently visits the Writing Center for help with class assignments. Over time, he's developed his grammar skills and has more confidence in his writing, even though he doesn't leave his tutorial sessions with flawless papers.

"It's really welcoming here," he said of the atmosphere in the Writing Center.

He's pictured here with one of our volunteer tutors, Savannah. "We had a lot of great back-and-forth," she said. "A lot of learning for the future."

Ezra: Professional Polish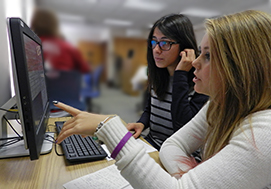 Writing Center tutors help students with many kinds of writing. Ezra (photo, left), a Sociology graduate student from Turkey, worked with Jessica yesterday on an e-mail requesting an interview with a human services professional for an upcoming term paper. They polished up her professional e-mail by correcting grammar errors and discussing her choice of words.

"I'm here to improve my academic English skills," she said. "I get help on my grammatical mistakes and also with organizing my writing."

Sometimes she likes working alone in the Writing Center because of the comfortable atmosphere in Eicher Hall. "It's very welcoming here," she said.

Lisa: Practice, Practice, Practice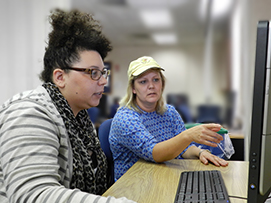 Writing Center peer tutors often work with education students preparing for the writing portion of the PAPA exam. Students taking the PAPA exam can work with a Writing Center tutor on understanding the scoring rubric, structuring a coherent essay, and using details and examples to support a central thesis.

Lisa (photo, right) has been working with Tarah on organizing her thoughts and creating a thesis statement before jumping into the timed essay.

"I've learned a lot from just a few sessions," Lisa said. "Tarah helps me create something that makes sense."