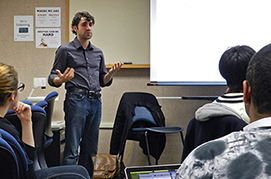 The Writing Center's mission is to help IUP students become better writers.
To accomplish this mission...
Peer tutors are here to work with your students in two locations.
This message details how peer tutoring can benefit your students.
Instructors are encouraged to include information about the Writing Center in class syllabi. We have sample texts available.
Instructors may schedule an in-class workshop on a variety of writing topics. Led by Writing Center tutors, these workshops are an excellent way to address specific concerns like documenting sources or revising a paper.
Instructors may work with Writing Center director Dana Driscoll to develop writing assignments and pedagogies that reflect best practices in the teaching of writing. To request a consultation, email ddriscol@iup.edu.