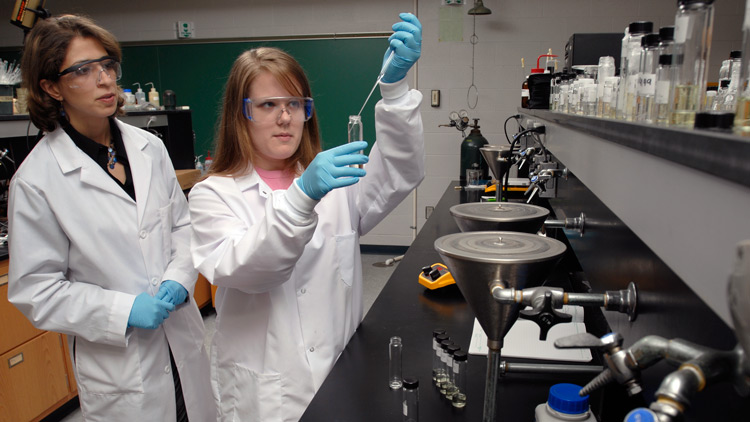 Launch Your Career with a Foundation in the Natural Sciences
Maximizing your chances for a successful transfer to a post-graduate professional school for a career in a health care field is the goal of the Natural Sciences Preprofessional Programs. No guesswork is required once you choose a track. If you crave a career in the high-technology industry, or in business or in health services, each program is designed to help launch you toward your preferred destination.
A strong foundation in the natural sciences is enhanced by your choice of free electives. Deepen your knowledge and credentials by delving into such topics as molecular biology, chemistry, biology, biochemistry, psychology, economics, pre-law, or athletic training.
Why Natural Sciences Preprofessional Programs?
Qualified IUP graduates save time and money by choosing a focus early in their academic career. If securing a lucrative career is your first goal, there is not a better path than a foundation in the natural sciences. Each track leads you through the necessary studies without distractions or vague outcomes.
The World Needs Natural Sciences Preprofessional Majors
Labor statistics reveal that more health care professionals are needed to properly treat a growing populace. As a natural sciences preprofessional major, you have the advantage of preparing for a career that promises excellent salaries and room for advancement.
Expected Outcomes with an Undergraduate Degree in Natural Sciences Preprofessional Programs
IUP's fast-track to a career in health services begins when you choose a profession from seven available tracks. For those students who emerge from the program with excellent grade point averages, each track offers the possibility of accelerating your studies by applying for and, if accepted, enrolling in a post-graduate professional school in your senior year. This opportunity is aided by the many strong affiliations IUP has forged with reputable professional schools across the nation.
Your Options Grow By Choosing Among IUP's Free Electives
Faculty advisors shadow your advancement to assure that all credits and requirements are fulfilled.
Engage with other students who share your passion for natural sciences by joining the living-learning dorm community.
The IUP Difference
Accelerated Degrees.  By qualifying for early transfer to a post-graduate professional school, you save time and money, and speedily sail toward your ultimate goal.
Diverse Advisors. Faculty members from various science-related departments bring their broad experiences into play when assisting your career plans.
Complimentary Studies.  A natural sciences degree is an excellent complement to your double-major aspirations. The knowledge is applicable to business and industry firms with a focus on science products and services.