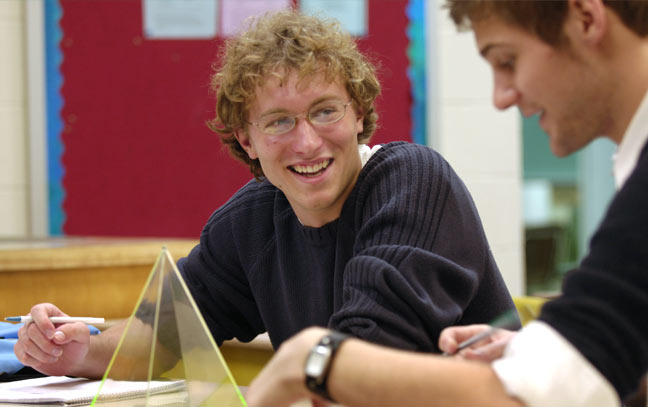 Prepare for a Successful Career in a Medical-Related Field of Your Choice
You're thinking about a rewarding career as a physician assistant. Or pharmacist. Or exploring the growing opportunities in medical-related fields like chiropractic, dentistry, optometry, or physical therapy.
IUP's Natural Science BS program gives you the solid foundation to excel in these demanding and fulfilling professions.
What You'll Learn as a Natural Science Major
When you earn a bachelor's degree in natural science, you're getting started on your medical-related or scientific career path. Whether you go on to help people maintain healthy smiles, clear vision, or pain-free shoulders, you'll need advanced skills in chemistry, biology, physics, and math to get there.
At IUP, you'll learn from professors with extensive experience in preparing students to get accepted into—and thrive within—competitive professional master's and doctoral programs in medicine and science. Your professors want you to succeed.
Imagine Your Future
The choice is yours in natural science. And at IUP, there are plenty of choices.
If you're excited by science but not yet ready to focus on a specialty, pursuing a natural science major at IUP is a smart investment. You'll graduate with a degree that opens you to a wide variety of careers.
Clear Professional Goal
If you'd rather start your college career with a clear professional goal, enroll in one of IUP's career track degrees within the natural science program:
Natural Science/Pre-chiropractic, BS
Natural Science/Pre-dentistry, BS
Natural Science/Pre-optometry, BS
Natural Science/Pre-pharmacy, BS
Natural Science/Pre-physician Assistant, BS
Natural Science/Pre-physical Therapy, BS
Classes and Requirements
You're ready to do what it takes to earn admission into a high-ranking post-graduate academic program. The natural science courses you'll take at IUP are based on the admission requirements of most professional medical-related schools in Pennsylvania and neighboring states.
These requirements include:
Six biology courses, with labs
Four chemistry courses, with labs
Two mathematics courses
Two physics courses, with labs
One economics course
One psychology course
You'll have plenty of support from your academic adviser in choosing the best courses to meet your career goals. They will let you know if your desired graduate program requires you to take specific or additional courses as you earn your natural science degree.
Full Academic Catalog Listing
The course catalog is the official reference for all our degree and course offerings. Check it out for a full listing of the classes available and requirements for this degree.
Kelly Seibert '09, Natural Sciences
IUP taught me the importance of a strong work ethic, the ability to multitask, and how to work well as a team player.
Build a Strong Foundation for Graduate School
Are you starting to think about graduate school? It's never too early to dream—or to plan.
Graduates of IUP's Natural Science BS program have been accepted into highly competitive professional master's and doctoral programs throughout Pennsylvania and neighboring states.
Imagine yourself earning an advanced degree at one of these schools:
Duquesne University
Lake Erie College of Osteopathic Medicine
Ohio State University
Shenandoah University (VA)
Temple University
University of Charleston (WV)
University of Pittsburgh
West Virginia University
Expand Your Knowledge with a Minor
Go more in-depth in your scientific studies with a related minor. You can add a chemistry minor by completing a modest number of additional courses. Or focus your interest in a slightly different direction and pursue a minor in biology or psychology.