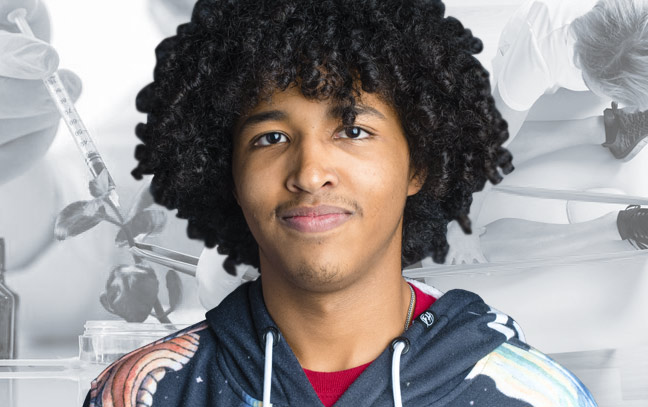 Prepare for a Successful Physical Therapy Career
People go to physical therapists because they want to get back to work and play after an injury or illness.
You want an exciting, in-demand career that lets you help people of all ages lead independent and active lives. Physical therapy (PT) is the perfect choice for you.

In this highly rewarding health care role, you'll provide rehabilitation and treatment for patients with a wide variety of medical conditions, illnesses, and injuries. You'll be a movement expert and work hands-on to
Improve patients' ability to move
Reduce or manage pain
Restore function
Prevent disability
Why Major in Pre-physical Therapy at IUP?
IUP's Pre-physical Therapy BS is highly regarded and has a long track record of student success. You'll gain a solid foundation in chemistry, biology, physics, math, and other subjects that physical therapy schools across the nation require for admission.
If the graduate school you plan to enter has additional requirements, no problem. Your advisor will guide you to make sure you know about—and enroll in—the courses you need.
You'll work hard as a pre-physical therapy major. We'll work with you to help you prepare for physical therapy school and your successful future beyond it.
IUP's Affiliation Agreements Boost Acceptance to Top Physical Therapy Degree Programs
If you want to stay in Pennsylvania for graduate school, we have good news. IUP has formal affiliation agreements with both
Chatham University, and
Gannon University
If you apply for admission to physical therapy programs at these universities, our affiliation agreements improve your chance of acceptance.
Imagine Your Future
See yourself helping people achieve fitness goals, get back or keep their independence, and lead active lives. Physical therapy is an in-demand and well-paid career.
As a PT, you'll be an expert in evaluating and treating movement disorders. You'll help patients to improve their flexibility and strength. And you can do it in a variety of settings:
Hospitals
Patients' homes
Rehabilitation clinics
Skilled nursing facilities
Sports medicine centers
Get an Insider's View from the Pros
While you're still a student, it's smart to start building your professional network. The American Physical Therapy Association(www.apta.org) is an excellent place to start.
You can explore careers and learn more about undergraduate and graduate programs. It's a good place to discover all of the exciting opportunities waiting for you in the physical therapy field.
Similar Occupations
Chiropractor
Dentist
Doctor
Optometrist
Physician assistant
Classes and Requirements
One day you're enrolling for your first class, and then before you know it, you're walking across the graduation stage. Your pre-physical therapy academic adviser will guide you every step of the way.
The courses in the bachelor in pre-physical therapy are based on the admission requirements of graduate schools in Pennsylvania and neighboring states. These requirements include:
Six biology courses, with labs
Four chemistry courses, with labs
Two mathematics courses
Two physics courses, with labs
One economics course
One psychology course
Some physical therapy schools require a few additional courses. Your adviser will help you to plan ahead to meet the requirements of the graduate program you prefer.
Full Academic Catalog Listing
The course catalog is the official reference for all our degree and course offerings. Check it out for a full listing of the classes available and requirements for this degree.
3+4 Accelerated Program
If you're ready to get to the next phase of your education faster (and make your investment pay off sooner), opt for the 3+4 program. You'll study in IUP's pre-physical therapy major for three years, then advance to your graduate school physical therapy program. After you complete your first year of graduate school, you will earn your BS in Pre-physical Therapy from IUP.
Possible Minors
The most popular choice of minor for pre-physical therapy majors is chemistry, which only requires a small amount of additional coursework.
Chemistry
Biology
Psychology