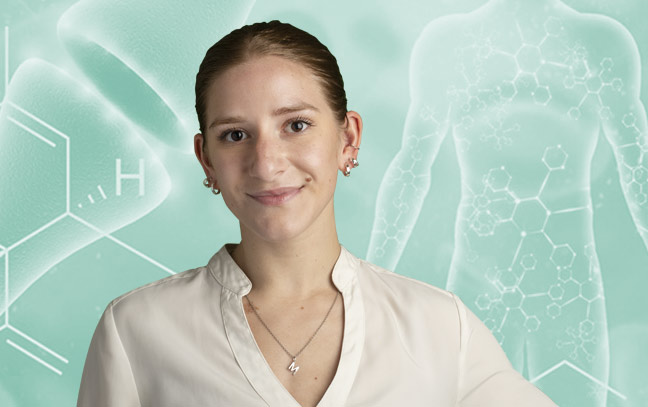 Prepare to Be a Chiropractor
You're curious about the way bodies work—or don't work. And you're intrigued that some of the newest ways to treat pain, illness, and injury are actually some of the oldest ways. As a chiropractor, you'll help your patients improve their health, performance, and quality of life naturally and noninvasively—without the use of prescription drugs.
The pre-chiropractic BS degree at IUP is designed to prepare you for entry into a top professional chiropractic school, where you will earn a Doctor of Chiropractic degree.
Why Major in Pre-chiropractic at IUP?
You want to bring your best to your future patients. And you plan to bring your best to your studies so you can move forward to a rewarding career.
Our record speaks for itself. When you join the IUP community, you'll be supported by caring faculty with deep experience in guiding undergraduates to the chiropractic programs of their choice.
IUP is Affiliated with Top Chiropractic Schools
As an undergraduate major in pre-chiropractic, you'll have a network of support that extends beyond your advisor, faculty, and the student community. That's because IUP has developed formal affiliations with outstanding chiropractic programs—this increases your chances of being accepted into these professional schools.
IUP has formal affiliation agreements with:
Life University
Logan Chiropractic College
Northeast College of Health Sciences
Palmer College of Chiropractic
Parker Chiropractic College
Sherman Chiropractic College
Imagine Your Future
In the exciting and in-demand chiropractic science career, you'll be an important member of the health care team.
To get there, first you'll start your undergraduate studies in IUP's Pre-chiropractic BS program. With your bachelor in pre-chiropractic from IUP in hand, you'll apply for admission to chiropractic schools, work hard, and then earn your Doctor of Chiropractic degree.
After that, the choice is yours. You can enjoy the team environment of working in a clinical setting with other health or fitness professionals. Or roll up your sleeves, find the perfect location, and open your own chiropractic office.
Similar Occupations
Doctor
Physical therapist
Physician assistant
Expected increase in demand, faster than average
Classes and Requirements
IUP's bachelor of science in pre-chiropractic gives you a solid foundation in chemistry, biology, physics, and math. When you apply to graduate schools, you'll be ready with the knowledge, critical thinking skills, and professional network you need to meet the requirements of chiropractic programs across the nation.
These requirements include:
Six biology courses, with labs
Four chemistry courses, with labs
Two mathematics courses
Two physics courses, with labs
One economics course
One psychology course
If your chosen graduate school requires a slightly different mix of courses, that's not a problem. Your adviser will work with you to make sure you understand—and enroll in—any additional classes required by the school you plan to attend.
Full Academic Catalog Listing
The course catalog is the official reference for all our degree and course offerings. Check it out for a full listing of the classes available and requirements for this degree.
3+1 Accelerated Acceptance Program
If you're eager to get going in your career as soon as possible, enroll in IUP's accelerated pre-chiropractic program.
In this 3+1 program, you'll study at IUP for three years, then move on to an accredited chiropractic school. After you complete your first year of graduate study, you'll earn a BS in Pre-chiropractic from IUP.
Minors That May Be a Good Fit
Want to boost your undergraduate study with a minor? You'll need to complete only a few extra courses to add a minor in chemistry or biology to your pre-chiropractic degree.
Anthropology

Applied Statistics

Animal Behavior

Biochemistry

Biology

Biomedical Science

Environmental Microbiology

Neurobiology

Wildlife and Conservation Biology

Chemistry

Computer Science

Cyber Security

Elementary and Middle Level Mathematics

Forensic Biosciences

Geography

Geology

Mathematics

Physics

Psychology

Safety, Health, Environmental, Applied Sciences
Professional Organizations That Support You during Your Pre-chiropractic Study and in Your Career
Enrolling in an undergraduate degree program is a big decision. The more you know, the better you'll feel about this critical step toward a successful chiropractic career.
The Association of Chiropractic Colleges and the American Chiropractic Association give you detailed information about graduate school entrance requirements and much more. Visit their websites to research all of your opportunities: