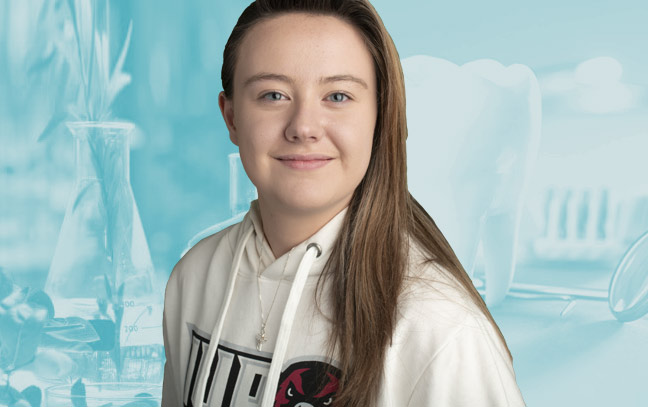 Pre-launch Your Successful Dental Career
You want a medical career that helps people stay healthy by protecting and preserving their teeth, gums, and mouth. You have the perfect mix of compassion for people and love for precision that dentists need to create great relationships with their patients and build thriving careers.

IUP's Pre-dentistry BS will prepare you to become a vital member of this growing and rewarding field.
Why Major in Pre-dentistry at IUP?
Your undergraduate degree in pre-dentistry is the start of your career. IUP's program has shown outstanding success in preparing students to meet the entrance requirements of top dental schools, from Temple to LECOM and many more.
You'll work with experienced advisers and learn from caring, experienced faculty. If you're ready to make the most of your time at IUP, your professors will be there to help you reach your goals. When you leave IUP's pre-dentistry program, you'll be confident, skilled, and ready to meet the challenges of dental school.
Imagine Your Future
Dentistry is an art and a science. We've got the science covered. In IUP's BS in Pre-dentistry program, you'll get a solid foundation in chemistry, biology, physics, and math.
Dreaming about opening your own dental practice? You'll also study economics and psychology. Your professors will help you gain a broad understanding of managing a business and, maybe most importantly, meeting—and exceeding—your patients' expectations.
Expand your knowledge base even further. Add a minor to your pre-dentistry major by completing extra courses in chemistry, biology, or psychology.
Similar Occupations
Chiropractor
Optometrist
Physical therapist
Physician
Physician assistant
Classes and Requirements
When you graduate from IUP with a Pre-dentistry BS, you'll be well-positioned for acceptance to the graduate school of your choice.
The courses you'll complete in the pre-dentistry major are designed to meet the requirements of dental schools across the country. These requirements include:
Six biology courses, with labs
Four chemistry courses, with labs
Two mathematics courses
Two physics courses, with labs
One economics course
One psychology course
Your desired graduate school might require a slightly different mix of undergraduate courses. Your adviser will work closely with you during your four years at IUP to make sure you get the required courses—and support—you need to reach your goals.
Full Academic Catalog Listing
The course catalog is the official reference for all our degree and course offerings. Check it out for a full listing of the classes available and requirements for this degree.
Get a Broader View of the Dental Profession
To best understand dental school and what it's like to be a dentist, we encourage you to:
Network with experienced dentists.
Reach out to ask questions about graduate schools, specialties, and research.
Learn about volunteer positions.
It's all waiting for you at in-person or virtual meetings of national organizations promoting the dental profession.
These are excellent resources:
Possible Minors
The most popular choice of minor for pre-dentistry majors is chemistry, which only requires a small amount of additional coursework. Other minors to consider are biology and psychology.