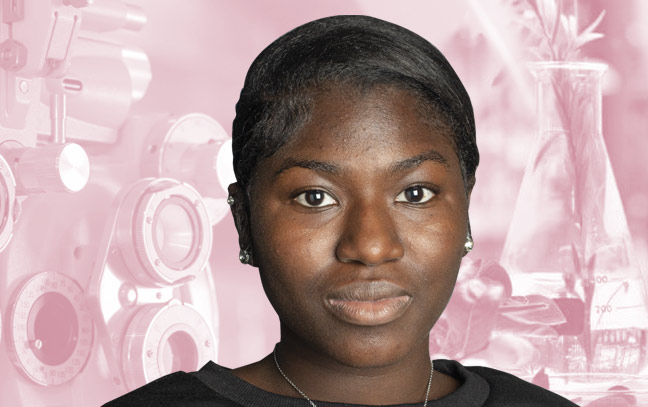 Build a Bright Future in Optometry
You see yourself working in the medical field. And for you, that looks like a rewarding career in optometry—helping people see more clearly and comfortably.
In IUP's Pre-optometry BS program, you'll get the knowledge, skills, and support you need to prepare for entry into a professional optometry school, where you'll earn your Doctor of Optometry degree.
Why Major in Pre-optometry at IUP?
You know that getting into the optometry school of your choice will be challenging. At IUP, you'll have a highly experienced community to guide and support you all the way.
Our faculty and advisers have had outstanding success in helping our pre-optometry students meet the requirements for graduate programs. Our students advance to top schools, from Ohio State to Pennsylvania College of Optometry at Salus University, among many others.
Imagine Your Future
Optometrists diagnose, treat, and manage eye diseases and disorders. On top of that, you'll also have a full schedule of yearly eye exams—prescribing glasses and contact lenses. There are lots of ways to be an optometrist:
Run your own practice.
Work for a retail company.
Be part of a medical office.
Whatever you decide, you'll enjoy an interesting, respected, and well-paid career as an optometrist.
Similar Occupations
Chiropractor
Dentist
Physical therapist
Physician
Physician assistant
Classes and Requirements
You'll need a solid base of math and science knowledge and problem-solving skills to excel in optometry school.
IUP's bachelor of science in pre-optometry program will provide you with the chemistry, biology, physics, and math courses necessary to meet the admission requirements of a professional optometry school.
These requirements include:
Six biology courses, with labs
Four chemistry courses, with labs
Two mathematics courses
Two physics courses, with labs
One economics course
One psychology course
Some optometry programs require a slightly different mix of courses. No problem. Your adviser will work closely with you every semester to make sure you are completing the courses you need to enter your top picks for graduate school.
Full Academic Catalog Listing
The course catalog is the official reference for all our degree and course offerings. Check it out for a full listing of the classes available and requirements for this degree.
3+1 Accelerated Acceptance Program
At IUP, you decide how to get your degree. You can enroll in our traditional pre-optometry program and complete your optometry school prerequisites in four years.
If you're eager to get going in your career as soon as possible, enroll in IUP's 3+1 accelerated acceptance program. Study at IUP for three years, then move to Pennsylvania College of Optometry at Salus University. After you complete your first year of graduate study, you'll earn a BS in Pre-optometry from IUP.
Get a Closer Look at Optometry Schools and Colleges
Choosing the right graduate school is one of the most important decisions you will make as you plan your optometry career.
You can find entrance requirements and other pertinent information all in one place: the Association of Schools and Colleges of Optometry website.