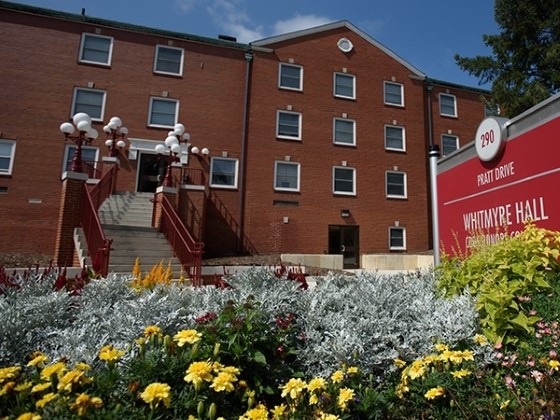 Whitmyre Hall is the home of the Cook Honors College. About 180 Honors College students live here during the academic year, making it their home on campus.
The first floor features the Great Hall, Honors College classrooms, and several student lounge areas. The next two floors offer student rooms in a traditional residence hall style. The ground floor has a laundry room, music practice room, and a small lounge area. Like all university buildings, Whitmyre is a smoke-free environment.
All Honors College students are eligible to live in the residence hall, which is the site for honors core classes. Incoming Honors College freshmen are required to live in Whitmyre during their first year.
Features of the Building
All new furniture in student rooms in 2018
Major renovations completed in 2018 (new bathroom facilities, freshly painted rooms, new furniture in many shared spaces)
Great Hall with grand piano for student use and space for large-group events
Full, large kitchen for student use
Music practice room
Comfortable lounge areas throughout the building, some with large-screen televisions
Laundry room
Outdoor basketball court
Computers/printing station (1st floor)
Wireless and wired internet
Pool table and vending machines
Air conditioning/heating by room (students can adjust their rooms)
The building diagrams (PDF) may help you choose a room when you apply for housing online (on the Campus Services page in MyIUP).  
Whitmyre Standard Room Dimensions

| Room type or Object | Length Depth Height |
| --- | --- |
| Double occupancy room (size can vary) | 15' 12' 8' |
| Bed (height adjusts) | 83" 38" 36" |
| Dresser | 22" 30" 30" |
| Desk w/shelf | 41" 22" 66" |
| Closet | 36" 23" 68" |
| Windows (dimensions may vary) | 3'8" x 4'5" (w x h) |
Although rooms in Whitmyre Hall vary considerably in size, the average double room is 15' x 12' with a window measuring 3'8" x 4'5" (w x h). The walls throughout the building are plaster with a height of nearly eight feet. All rooms are equipped with dressers, closets, desks, desk chairs, and bunkable beds.
The standard bunk bed arrangement is 18" from the floor to the top of the lower mattress and 57" from the floor to the top of the upper mattress; this arrangement allows approximately eight inches of clearance under the lower mattress. The window has a pull-down shade. Residents may have lofts, but they must be sturdy, well-braced, and of solid construction.
Each closet has a clothing rod. Lighting is provided via overhead lighting. Residents are encouraged to decorate their rooms; however, university-owned furniture cannot be removed from the room. Pictures and posters can be hung using poster putty only. Nails, bolts, tacks, glue, or other adhesives cannot be used to affix materials to the walls. (There are a few double-deluxe rooms, which include a couch that is 56" long, 31" wide, and 34" high.)