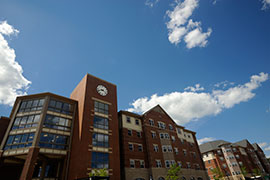 Suites on Maple East and Ruddock Hall provide comfortable, attractive, state-of-the-art living facilities for students.
These buildings house a variety of other facilities to promote academic success. On their ground floors, Suites on Maple East houses the Center for Health and Well-Being, and Ruddock Hall houses IUP Housing.
The building diagrams for Suites on Maple East (PDF) and Ruddock Hall (PDF) and different styles of suites (PDF) may help you choose a room when you apply for housing online (on the Campus Services page in MyIUP).
Amenities Include
Laundry rooms on each occupied floor
Game room and TV lounge
Bicycle storage room (in Suites on Maple East)