Wallwork Hall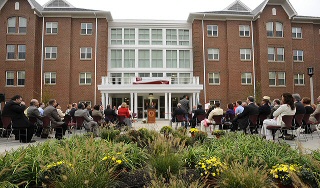 Wallwork Hall is located on Pratt Drive and Grant Street across from Delaney Hall. The building provides comfortable, attractive, state-of-the-art living facilities for students. The building has a 100- to 150-person multipurpose room that can be reserved.
Hall office phone number: 724-357-2738
Wallwork Hall houses living and learning communities with Global Awareness themes. Student who embrace and seek exposure to a culturally engaging environment may wish to reside there.
The building diagrams (PDF) and different styles of suites (PDF) may help you choose a room when you apply for housing online (on the Campus Services page in MyIUP).
Amenities Include
Need to reserve a public space in Wallwork Hall? Read the Reserving Public Space in the Suites guide.