Eberly, Room 322-F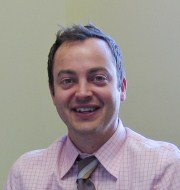 724-357-4827
Degrees/Schools
PhD, Economics, Fordham University
MA, International Political Economy and Development, Fordham University
BBA, Information Systems, Texas Tech University
Haage School, The Netherlands, Certificate in International Business Studies
Areas of Expertise:
Applied Microeconomics, Labor, Development, and Health Economics
Biography:
Brandon Vick is an associate professor of economics at Indiana University of Pennsylvania and has been a MARTI research associate since 2013.His research focuses on economic disparities between groups of people in terms of poverty, health, and workforce outcomes. He received his MA in International Political Economy and Development in 2008 and his PhD in Economics in 2013, both from Fordham University.
He has a number of studies focusing on workforce outcomes. One line of research measures factors behind the persistent gender wage gap in Appalachia. Previous work analyzed the gender gap in Montenegro and Brazil. Another line of research studies the diversity of people with disabilities working in sheltered workshop environments, measures the primary job tasks and skills they use in these environments, and links those tasks to occupational opportunities in the larger labor market. A final set of workforce studies focuses on career satisfaction of the health workforce in rural Pennsylvania and highlights possible factors related to workforce shortages.
Vick is serving as a MARTI research associate through his membership to the interdisciplinary Veterans' Reintegration Program at IUP. His paper, recently published in Social Science Research, found that male veterans make 9 percent less than non-veterans, while female and black veterans experience a wage premium (2 percent and 7 percent, respectively) over similar non-veterans. Another study measures poverty and health outcomes and compares them across various groups of veterans by branch, length of service, and combat experience. More on Vick's research can be found here.
Vick has a decade of teaching experience across elementary, high school, continuing education, and university settings. He currently teaches Principles of Microeconomics, Labor Economics, and Health Economics.