Stephanie M. Jozefowicz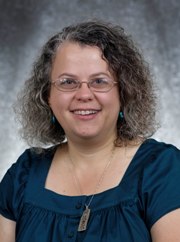 Office: McElhaney Hall, Room 202-B

Office Phone: 724-357-2642

E-mail: Stephanie.Jozefowicz@iup.edu

Degrees/Schools:

PhD, Economics, Indiana University in Bloomington, Ind.

MA, Economics, Indiana University in Bloomington, Ind.

BS, Mathematics, Baylor University

Areas of Expertise:

Economic Education, Economics of Education, Economics of Religion, Movie Economics, and Undergraduate Research

Biography:

Stephanie Jozefowicz is a professor in the Department of Economics. She has been a member of the Department of Economics since 1999. Jozefowicz received her PhD degree from Indiana University in Bloomington, Indiana. She holds an MA degree in Economics from Indiana University and a BS degree in Mathematics from Baylor University.
Jozefowicz serves as an at-large member of the IUP University Senate, a member of the IUP Library and Educational Services Committee, a mentor in the IUP Belonging, Learning, and Exploring New Directions (BLEND) project, chair of the Department of Economics Curriculum Committee, and secretary of the Pennsylvania Economic Association. She previously served as the chair, vice chair, and secretary of the IUP LESC, as well as secretary of the National Association of Economic Educators Executive Committee.
Her areas of expertise are economic education, game theory and experimental methods, international economics, and public economics.
Jozefowicz teaches International Trade and Public Finance in addition to Basic Economics and Principles of Microeconomics classes. Her expertise in teaching online economics courses using different learning management systems has garnered her invitations to participate in summits sponsored by Pearson Higher Education and McGraw-Hill Education. In addition, Jozefowicz has been invited to teach economics lessons using children's literature to elementary school students throughout the Indiana Area School District. Jozefowicz has had refereed journal articles appear in Applied Economics, Atlantic Economic Journal, Journal of Economic Education, Journal for the Scientific Study of Religion, National Social Science Journal, and Perspectives on Economic Education Research. A number of these journal articles have been co-authored with IUP undergraduate students.