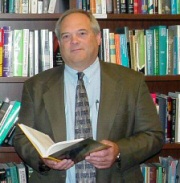 Office: McElhaney Hall, Room 213-D
Office Phone: 724-357-4776
Email:ciboney@auxmail.iup.edu
Degrees/Schools
PhD, Economics, University of Illinois
MS, Economics, University of Illinois
BS, Economics, University of Illinois
Areas of Expertise
Comparative Systems, Economic History, Industrial Organization, Managerial Economics, and Statistical Graphics
Biography
Willard Radell has been a professor at IUP since 1981. His main teaching areas are managerial economics and economic history. Radell earned his PhD at the University of Illinois, Urbana-Champaign. His PhD fields were industrial organization and Regrlation, economic history, comparative economic systems, and public finance. He also holds master's and bachelor's degrees in economics from the University of Illinois, where he also lettered in football and wrestling.
Radell is member of the American Economic Association, the American Statistical Association, and the American Association of University Professors. His research interests include measures of inefficiency in Cuba's sugar industry, organizational efficiency, economic depressions, exploratory and visual data analysis, and the economics of crisis management. Radell's papers have been published in World Development, Journal of Developing Areas, Industrial Crisis Quarterly (later re-named Organization and Environment), Cuban Studies, Cuba in Transition, and Key Readings in Crisis Management (chapter).
In addition to actively serving on many university and department committees, Radell was an elected member of the IUP University Senate for over 30 years.