Distance Education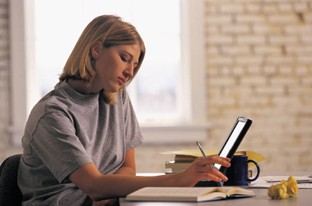 IUP offers online undergraduate- and graduate-level courses that can be accessed by computer at any time of day or night.
As active participants in the learning process, students communicate online with professors, classmates, and advisors. Because distance courses maintain the same high standards as those conducted in the classroom, academic success requires self-discipline and the ability to learn without face-to-face interaction.
How to Apply for Online Courses
Information about applying and registering for online courses for undergraduate and graduate students.
About Distance Education
Traditional full-time students, part-time students, transfer, and visiting students may participate in IUP's online courses. 
Tuition and Fees
Tuition and fees detailing costs for undergraduate, graduate, culinary programs, and more.
Student Resources
A listing of student resources including academic calendar, technology assistance, financial aid, library services, proctored exams, and directory search.
Getting Started
Students are responsible for knowing how to register and how to adjust their enrollment, how to access grades, how to check IUP e-mail, and more.
Programs and Courses
Information about online degree and certificate programs.
News
There are currently no posts to display. Please check again soon!