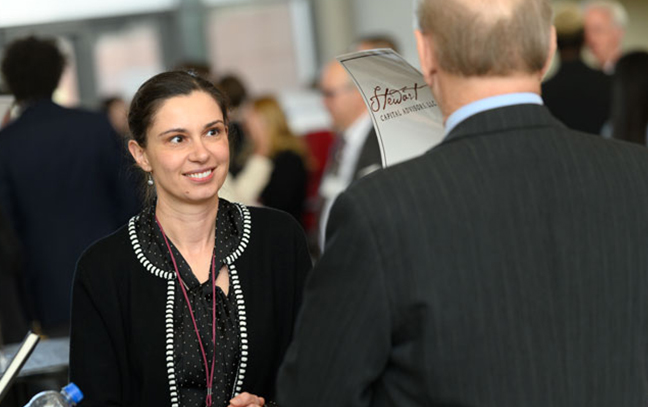 Build Your Leadership Skills with a BS in Management
You're ready to make your mark in business. You want to motivate people and be an effective manager. To accomplish these you'll need to become a decisive leader—to know how to evaluate ideas, take action, and organize others to push your organization forward.
IUP's General Management BS will give you the background—and practice—you need to be a leader in the competitive business world.
Why Study Management at IUP?
The Eberly College of Business encourages innovative thinking. Your classes in management and leadership combine practical know-how with an eye toward the future. You'll learn techniques for managing people and prepare to be a highly effective leader at every level of business, from program director to chief executive.
What You'll Learn
The Bachelor of Science in General Management at IUP will get you ready for a career in both the public and private sectors. You'll dive deep into:
Managerial planning
Organizing
Leading
Controlling organizational resources
You'll learn proven management principles to help you effectively run companies. And you'll build a solid foundation in core areas like:
Accounting
Economics
Finance
Marketing
Business Communications
Information Technology
You'll also tackle the ethical and moral principles involved in running a successful business.
Imagine Your Future
After you graduate with your bachelor's degree in general management, you'll have many different job opportunities in diverse industries to choose from. You'll be on the management track, in positions that will help you grow—and grow with—the company or organization.
Or strike out on your own! Many IUP general business graduates have used their degrees to become successful entrepreneurs. If you're interested in taking your degree further, you'll be perfectly positioned to pursue an MBA.
You can build a high-paying and highly secure career with a General Management BS.
Career Opportunities in Management
Administrative Assistant
Business administration
Human Resources Manager
Operations management
Project Manager
Retail management and management training programs
2020 median pay:
for the the average administrator and facility manager
Typical entry-level education:
Classes and Requirements
You'll learn how to think critically and solve important problems in the general management program. Our experienced, PhD-qualified professors have real-world business experience and will support you throughout the program.
Your management classes will focus on emerging theories that respond to our changing business world, along with the practical realities of everyday business operations.
Core classes will give you a strong business foundation:
Accounting
Economics
Finance
Management
Marketing
Your advanced classes—on topics like supply chain, quality, and human resource management—will give you the depth and expertise your future employers will expect and will benefit from.
Outside of the classroom, internship opportunities will let you learn on the job.
Full Academic Catalog Listing
The course catalog is the official reference for all our degree and course offerings. Check it out for a full listing of the classes available and requirements for this degree.
4+1 and Early Admissions Program: MBA
You can earn your bachelor's as well as a master's degree in five years when you take advantage of IUP's 4+1 programs. 
When you enter a 4+1 program as a sophomore, you will be able to reserve a spot in your chosen master's degree program. Just be sure to meet minimum requirements to continue in the program. 
A 4+1 program gives you more specialized knowledge for career advancement and lets you save on tuition costs, and you can complete your master's degree in a shorter timeframe. 
Student Professional Clubs
The student chapter of the Management Association is very active. You'll be invited to the numerous speaker presentations and facility visits the club organizes. The Management Association encourages your professional development and training and offers the popular Six Sigma yellow belt certification.
There are a number of other student organizations that can enhance your studies, including:
Student Society for Human Resource Managers
APICS (currently known as the Association for Supply Chain Management)
Minor in General Management
When you minor in general management, you'll add business insights to your other studies.
The minor is 18 credits—but you'll likely be able to apply six credits from your major coursework and will only have an additional 12 credits to fulfill.
Full Academic Catalog Listing
The course catalog is the official reference for all our degree and course offerings. Check it out for a full listing of the classes available and requirements for this degree.