Resa Crane Bizzaro, PhD, an associate professor in the Department of English, Composition and Applied Linguistics Program, was awarded the Coppler Disability Awareness Award for 2017-18. She was nominated by one of her PhD students, John Grant. At the time of her nomination, he wrote: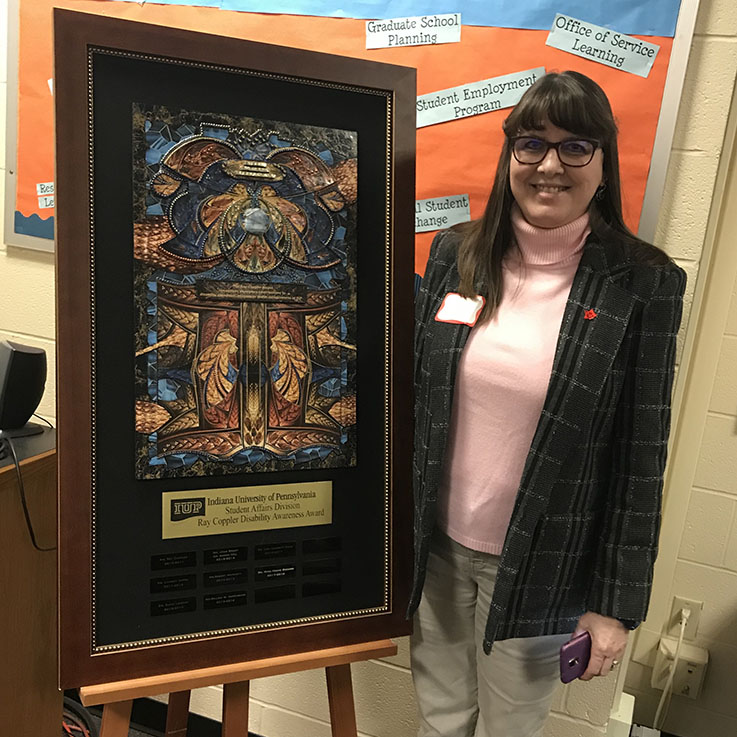 "Dr. Resa Crane Bizzaro would be the first to acknowledge that she is not an expert concerning disability-related issues in higher education. Her interests focus on Indigenous Rhetoric, Multicultural Rhetoric, Native American Literature and Culture, Appalachian Literature and Culture, Feminist Theories, Composition Theories and Practices, and International Literacies. Nevertheless, Dr. Bizzaro understands that her interests, particularly related to the experiences of women and minority groups, often intersect with the disability experience, and, of course, any person can become disabled at any moment. Disability affects us all.
"IUP's published commitment to diversity reflects Dr. Bizzaro's exemplary teaching practices. Dr. Bizzaro's high ethical standards concerning equitable inclusion are evident as she ensures access for all students. At the same time, Dr. Bizzaro goes further to recognize the value of disability identity, disability theory, disability methodology, disability-related civil rights, proactive disability-considerate pedagogy, disability accommodation, and equitable access for students who experience disability. There is no doubt; Dr. Bizzaro goes beyond the what is typically expected of a teacher as she makes a deliberate effort to learn about the overall disability experience in all of its manifestations. The entire IUP community can benefit from Dr. Bizzaro's example by appreciating the value disability brings to any discipline, academic endeavor, and/or social interaction.
"Dr. Bizzaro uses ideas about the disability experience to enhance her own teaching and she suggests worthwhile disability-related scholarship for her soon-to-be teacher/students to read. As a teacher, Dr. Bizzaro makes sure her physical and online classroom environments are accessible. To her credit, she has admitted she is not perfect when it comes to disability access. But nobody can be because every student is unique and we are all individuals. Regardless, Dr. Bizzaro puts forth a genuine effort to learn about disability and improve accessibility. Indeed, she communicates with the Department for Disability Access and Advising (D2A2) to gain knowledge about how to best accommodate her students who officially disclose disability. Moreover, she goes beyond accommodation-only teaching practices, realizing the importance of Universal Design for students who choose not to officially disclose disability to D2A2. In other words, she is proactive in her approach to access. Dr. Bizzaro ensures disability access in a kind, sensitive, and flexible manner and she facilitates success while maintaining academic rigor.
"Dr. Bizzaro also invites scholars whose work focuses on composition and disability to present in her classes. Notably, she has directed several doctoral dissertations that address disability issues in relation to composition. And Dr. Bizzaro asks colleagues experienced in disability to present with her at the Conference on College Composition and Communication. Ultimately, Dr. Bizzaro's extraordinary commitment to disability and her spirit of critical transformation is passed along to her teacher-students, who, in turn, spread disability awareness far beyond IUP."