Kathleen Brown, an undergraduate Disability Services major in IUP's College of Education and Communications, was awarded the Ray Coppler Disability Awareness Award for 2018-19. She was nominated by two of her peers.
Her first nominator, a fellow undergraduate Disability Services major, wrote: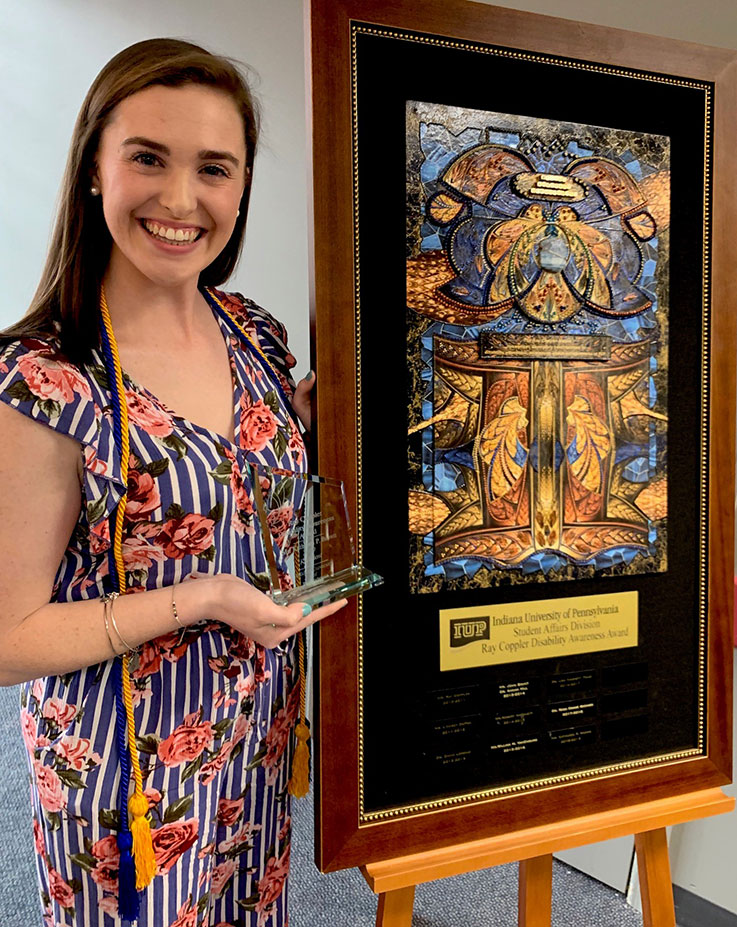 "Kathleen has set the standard for including people with disabilities both on and off campus. She is currently a senior in the Disability Services program. Kathleen is currently in charge of the Disability Awareness Resource Room (DARR) in Davis Hall. The DARR was created by William VanEmburg, and when he graduated Kathleen stepped up to continue the legacy of inclusion by actively recruiting volunteers to staff the room, looking for ways of bringing in funding, and advertising the room to students who may be in need of its services. Kathleen is also a leader within the Best Buddies organization on campus. Many events and fundraisers have been conducted by her for the benefit of people with disabilities. Her positive attitude and friendly demeanor are wonderful traits to have in this position, and she cares deeply for her friends in this organization. These are only two programs of many that Kathleen is involved. She is a tireless volunteer and looks out for everyone she meets to make sure that they are treated with respect and included in equal measure by the high standards that she sets for herself. I've been working in the field of intellectual disabilities for almost twenty years, and have found Kathleen to be the embodiment of inclusiveness and positive regard. She has a bright future ahead of her and the people she serves will no doubt reap the benefits of the expectations she has set for herself. Kathleen is a wonderful young woman and I am proud to call her my friend. She inspires me to be the best that I can be in service to others."
Kathleen's second nominator, also an undergraduate student, nominated her on behalf of the IUP Sign Language Club:
"Kathleen Brown is an amazing disability advocate. She is majoring in Disability Services here at IUP. She is involved in Best Buddies, Sign Language Club, Council for Exceptional Children (CEC), Delta Alpha Pi Honor Society, and is currently doing an internship at Sunrise School, a school for students with varying disabilities. She has leadership positions in Best Buddies, Council for Exceptional Children as Vice President, and Delta Alpha Pi. Kathleen also coordinates the Disability Awareness Resource Room (DARR) located in Davis Hall. Kathleen is the perfect person for this role. She is incredibly organized, punctual, kindhearted, and wise. As coordinator of the DARR, she coordinated volunteer schedules, organized equipment and materials, as well as volunteering her own time out of the week to have it open on several days. She recently participated in the Disability Awareness Panel that the IUP Sign Language Club and CEC hosted, by not only sharing her experiences but also helping promote it within organizations on campus. The panel would not have been the same without her! Kathleen's amazing, bubbly personality and her ability to show love to everyone she meets makes her one of the best people we have ever known. She has done an incredible amount of work to bring awareness to people with disabilities, not just this year, but her entire IUP career. Kathleen will be greatly missed by IUP but she is going to do amazing things once she graduates from this university. We are honored to have gotten to know her and wish her the best in her future endeavors."