Bonnie Freiman, an undergraduate Disability Services major in IUP's College of Education and Communications, seeking double minors in both child development/family relations and biology, has been awarded the Ray Coppler Disability Awareness Award for 2021–22.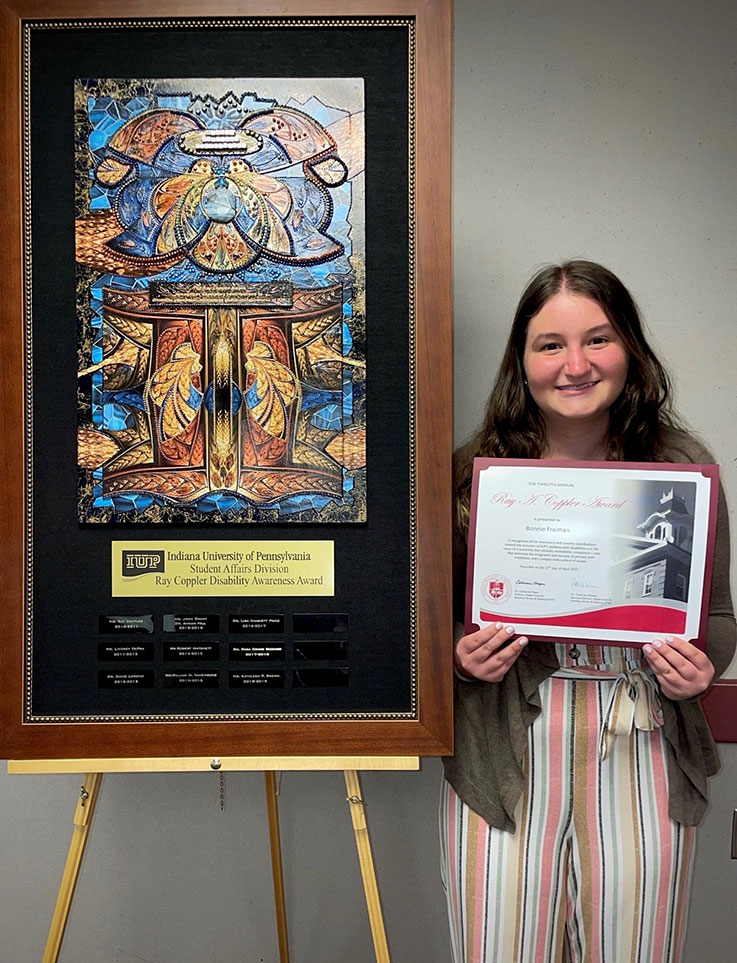 Bonnie has been a member of IUP's chapter of Best Buddies since her first year of college. This year, she served as chapter president and will serve in this role again next year. Best Buddies is an international organization dedicated to establishing a volunteer movement that creates opportunities for one-to-one friendships, integrated employment, leadership development, and inclusive living for individuals with intellectual and developmental disabilities.
Bonnie's nominator, a fellow IUP undergraduate student, wrote:
"Bonnie is well-deserving of this award! She is the president of the Best Buddies Club on campus and has greatly impacted the buddies in the community to make them feel included. Bonnie goes out of her way to make every buddy always smile. She plans many activities such as fun parties for the buddies and even a formal for them and makes sure the club is running smoothly. She is also a disability services major inspiring to become an occupational therapist. She always makes everyone around her feel included and welcomed. I have never seen anyone more passionate about inclusiveness in the community and aims towards removing the barriers that individuals with intellectual disabilities may face."
IUP's Best Buddies faculty advisor, Alexandria Kappel, wrote that Bonnie "...is a strong advocate for disability inclusion, both in her actions and in her never-ending support for IUP's Best Buddies chapter and the friendships that it creates."
Bonnie has built a strong one-on-one friendship with her own community buddy. Serving as president this year of IUP's chapter, she has been the organization's main local contact with community families and buddies and has worked with the executive board to create an extensive schedule of creative and fun events for the group throughout the year. She also teamed with the executive board to help coordinate a Bingo event that raised $3,000 and a walk that raised $5,000. Money from the walk event will be used to help open and support Best Buddies chapters in other regions of Pennsylvania. This year as president, Bonnie also helped to recruit several new buddies and developed a transition program so community buddies will not experience a lapse in their buddy pairings due to IUP student members graduating.
Bonnie said that it has been her dream since elementary school to spend her life working with individuals with disabilities. Her ultimate career goal is to become an early intervention occupational therapist. About her experience serving Best Buddies, Bonnie wrote that it's an "...amazing organization that will truly change your life. My buddy has changed my outlook on the world…."
Bonnie has also served IUP as the diversity and inclusion chair for the university's Special Olympics club, and as a member of the local chapter of the Council for Exceptional Children. She wrote that she is dedicated to making sure individuals with disabilities know they are welcome and have a safe space—disability does not define a person; it is one part of who they are.