Lisa Hammett Price, PhD, CCC-SLP, is a professor in the Speech-Language Pathology program in the Department of Communication Disorders, Special Education, and Disability Services at IUP. At the time she was recognized with the Coppler Award, Price had 20 years of experience working as a clinical speech-language pathologist with families and their children, both in public schools and in the university setting. She was nominated by two individuals for the 2016-17 Coppler Award.
Her first nominator, a graduate student in Hammett Price's program, wrote: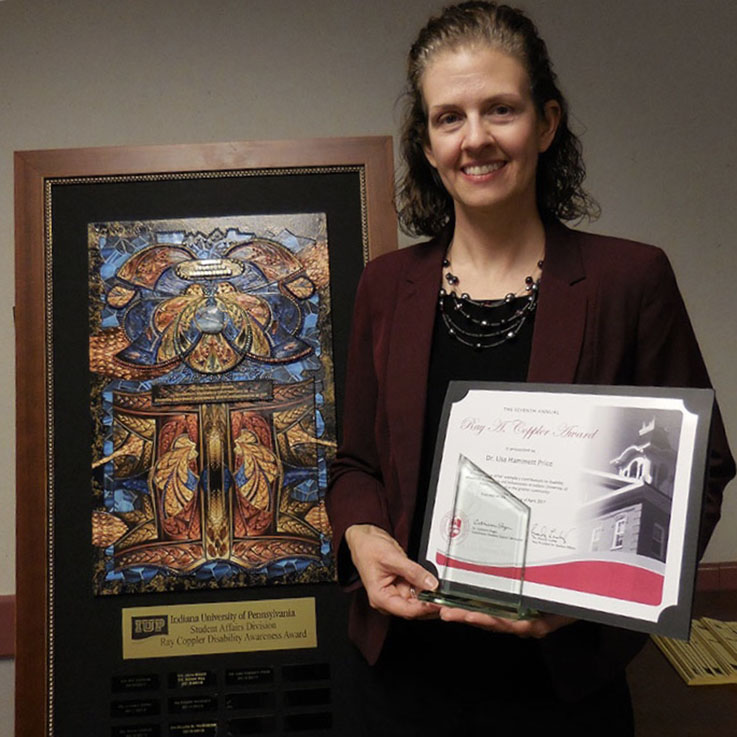 "Dr. Price continues to go above and beyond for her clients with speech and language needs. Dr. Price is a strong advocate for those who have mild to severe communication needs. She is an avid researcher on the topic of augmentative and alternative communication and continues to make outstanding contributions to the speech-language pathology department at IUP. Developing ways of communication for her clients/students does not stop when she leaves work for the day, she continues to design communication boards and activities for these individuals at her own home. She puts the needs of her clients/students first and is constantly making sure they succeed in all that they do."
Her second nominator, a faculty colleague in Hammett Price's department, wrote:
"It is my pleasure to recommend Dr. Lisa Price for her extraordinary efforts to secure augmentative communication devices for child clients of the IUP Speech, Language, and Hearing Clinic who have communication disabilities.There are children whose disordered communication skills prevent them from engaging in meaningful social and educational experiences. Dr. Price uses her clinical expertise to pursue alternative means for those children to communicate.
"Parents often struggle with the idea of using augmentative or alternative communication for their children. Dr. Price counsels the parents of children in the clinic to help them understand the research that shows how children are more likely to learn to talk if they have an alternative method of communication during the early years of speech and language development.After hours of research and trials, Dr. Price completes a complex 25-30-page application to secure insurance funding for the communication device that best fits the child's needs. Communication devices can range from $1,500 to $6,500. The application requires a full language evaluation, information on cognitive, vision, hearing, and motor abilities, data from trials with the different augmentative or alternative communication methods, and a strong justification for the final choice. It is a time-intensive process, and Dr. Price has submitted two applications within the past year (and is working on a third). The two submitted applications were funded! One child has her device, and Dr. Price is helping to train the family, student clinicians, and school personnel to it so that the child and her device are supported and accepted in her communication environments. The second device is on the way and will also require training for the child, caretakers, and professionals.
"Dr. Price goes above and beyond her clinical responsibilities to help children with severe speech and language disorders improve their social, emotional, and intellectual development. The work not only benefits the child, but benefits everyone who interacts with the child's, especially the family. Dr. Price's extraordinary efforts change the quality of life for children with communication disabilities."