Dr. Steve Hovan, chairperson of Indiana University of Pennsylvania's Geoscience Department, has been selected as IUP's 2007–08 University Professor.
This prestigious award is presented to an IUP faculty member who demonstrates an outstanding record of teaching, research, and scholarly activity and service.
This award was re-instituted at the University for the 2007-2008 academic year by IUP President Dr. Tony Atwater through the Office of the Provost and Vice President for Academic Affairs, Dr. Cheryl Samuels. The award will continue to be presented on an annual basis.
"Teaching, learning and scholarship represent the heart and soul of the University's mission," said IUP President Dr. Tony Atwater. "Our faculty members reflect the very best of the teacher-scholar model, and it is most appropriate to honor the "best of the best" with this prestigious honor, which represents extraordinary instructional and intellectual success," he
said.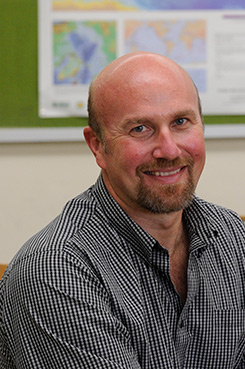 The purpose of the University Professorship is to recognize, reward and encourage IUP faculty who are actively and demonstrably engaged in research and scholarly activity which advances the faculty member's discipline or the teaching of the discipline.
In addition to the lifetime title of University Professor, Dr. Hovan will receive a $5,000 grant through the Foundation for IUP to support his research activities.
"Dr. Hovan is an individual who feels that his activities as a researcher, teacher, colleague and student mentor are, as he states, just doing his job,' " said Dr. Samuels. "Dr. Hovan personifies the qualities of the University Professor honor," she said.
Dr. Hovan joined the IUP faculty in 1994. In addition to his teaching responsibilities, Dr. Hovan works with graduate and undergraduate students on a variety of research projects designed to help them develop an appreciation for research discovery.
Dr. Hovan's research is focused upon examining the relationships between atmospheric circulation, oceanic currents, and global climate changes. He currently serves on the U.S. Advisory Committee for Ocean Drilling, which provides direction to the Integrated Ocean Drilling Program through National Science Foundation funding and support.
Dr. Hovan has successfully secured two National Science Foundation Awards and awards from several other agencies to advance his research. He was also instrumental in a statewide collaborative for excellence in teacher preparation. Dr. Hovan has conducted research on several ocean research vessels with IUP students, and has been published and presented extensively in his field throughout the United States and internationally.
Dr. Hovan won the 2000 Outstanding Achievement in Research Award from the IUP School ofGraduate Studies and Research.
"To be honored with the distinction of University Professor, to essentially be selected as doing the very best at what you long to do as a faculty member, is one of the highest compliments that I can imagine," Dr. Hovan said.
"I love teaching. There's nothing that compares to the moment when a student
who is taking your class realizes why it is important to learn about the earth, or the oceans, or the climate," he continued.
"I enjoy the fact that IUP encourages faculty to blend their commitment to research with a love of teaching," he said. "I'm not sure I could be happy teaching in a university that didn't value the role of professors as teachers, nor could I imagine teaching in a place that didn't encourage you to be part of the scientific research community. IUP provides a wonderful mixture of those two aspects of a faculty career," he said.
Dr. Hovan received his doctorate in oceanography (marine geology and geochemistry) in 1993 from University of Michigan.
IUP is a member of Pennsylvania's State System of Higher Education.