Teresa Shellenbarger: 2017–18 Distinguished University Professor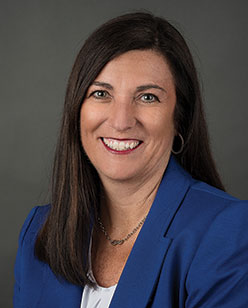 Teresa Shellenbarger, professor in the Department of Nursing and Allied Health Professions at Indiana University of Pennsylvania, has been selected as IUP's 2017-18 Distinguished University Professor. Shellenbarger has been at IUP since 1994 and has served in various education and leadership roles, with a focus on excellence in teaching, scholarship, and service. Currently, she is the coordinator of the PhD program in nursing.
About Teresa Shellenbarger
"The Distinguished University Professor distinction is one of the highest recognitions offered by the university to our faculty; the recipients are faculty who exemplify excellence in teaching, service, and scholarship," IUP President Michael Driscoll said.
"Dr. Shellenbarger has led efforts in the nursing field to use new technologies to promote active student learning in the classroom, online, and in clinical learning environments. She is considered a national leader and innovator in this area. It is most appropriate that she join the ranks of our Distinguished University Professors who remain active scholars and teachers."
Although the Distinguished University Professor award is presented annually, recipients retain the title for life. The Distinguished University Professor presents remarks at a number of university events during his or her tenure, including Freshman Convocation.
"I am truly grateful to be recognized by the university as Distinguished University Professor," Shellenbarger said. "I am fortunate to be at a university that provides an environment that allows me to participate in scholarly activities and to teach such motivated, hard working, and dedicated students. I get to share my passion and experience as a nurse and professor and use that to enable students, graduates, and colleagues to explore new opportunities in the changing field of healthcare and nursing education. This award validates the importance of my scholarly work championing nursing education excellence, and it supports my passion and long-standing dedication to helping others succeed in nursing and nursing education."
Additionally, Shellenbarger is the coauthor of the leading book on clinical teaching in nursing. Now in its fourth edition, this book is used in graduate programs throughout the United States and internationally and has received many awards. She has also published nine book chapters and more than 50 scholarly journal articles in leading peer-reviewed journals in nursing education.
Shellenbarger has been successful in securing grants totaling more than $370,000 for her research. In recognition of her research and scholarly contributions, she was inducted as an inaugural Fellow in the National League for Nursing Academy of Nursing Education. She has been the recipient of other awards that provide recognition of her impact in the field, including the Nurse Educator Award from the Pennsylvania League for Nursing.
At IUP, she has been recognized with the Center for Teaching Excellence's Innovation in Teaching Award and the Teacher/Scholar Award for Reflective Practice, as well as other research awards and mentoring recognition.
Nationally, Shellenbarger has served as a board member and was recently elected to serve as secretary of the National League for Nursing, the oldest nursing organization in the country.
During her tenure as Distinguished University Professor, Shellenbarger plans to work on two books related to the nursing profession. The first book, Clinical Nurse Educator Competencies: Creating an Evidence-based Practice for Nurse Educators, would explain the recently developed clinical nurse-educator competencies. The emerging competencies have not been previously articulated by any nursing organization, leaving a significant gap in the literature.
The book will review the existing evidence-based literature related to the clinical nurse educator role and provide essential resources for nursing faculty to assist them in understanding the critical knowledge, professional values, skills, and attitudes needed for their practice.
Additionally, Shellenbarger plans to update her co-authored book Clinical Teaching Strategies in Nursing (fifth edition). The book provides a practical discussion of the strategies used for clinical teaching and is supplemented with examples and exhibits drawn from Shellenbarger's vast personal experience in nursing education and teaching.