Abbas Ali was recognized as a Distinguished University Professor in 2012.
He is a professor in the management department and director of the School of International Management in IUP's Eberly College of Business and Information Technology.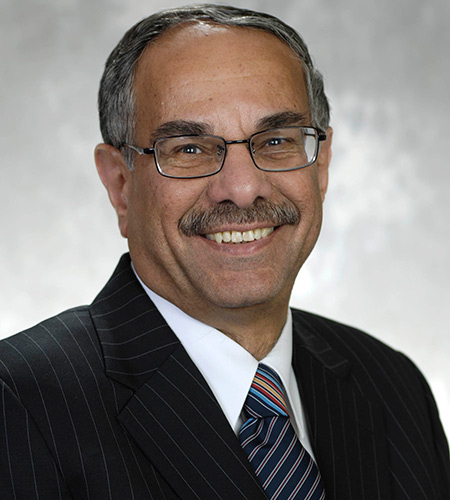 IUP presents the award to a faculty member who demonstrates an outstanding record of teaching, research and scholarly activity and service. The University Professorship is intended to recognize, reward and encourage faculty members who are actively engaged in these activities, thus advancing the discipline or the teaching of the discipline.
Though the award is given annually, recipients retain the University Professor title for a lifetime.
"This award strengthens my commitment to engaging in cross-discipline activities and optimally to serving our students and community," Ali said. "Indeed, the award is inspirational and a testimony that persistence and discipline are appreciated by our community of knowledge. In this community, commitment to excellence in writing and teaching is an integral part of our journey toward building a world environment where tolerance and inclusion are the norm. I appreciate the administration's and the committee's recognition of my activities and the granting of this award."
During his tenure as University Professor, Ali plans to work on several projects focusing on cross-discipline subjects, but his primary focus will be on writing a book on business ethics in Islam.
"The project is primarily a scholarly book and is aimed to serve scholars and practitioners," Ali said.
The book can also be a supplementary text for students majoring in business ethics, international business, cross-cultural studies and religion.
"Business ethics is a rising and thriving field of study," he said. "Recently, it has taken on an added value due to corporate scandals and the globalization of business."
Ali intends the book to fill a gap in understanding Islamic perspectives on how to approach and conduct business.
"The book is not philosophical nor a collection of abstract ideas," he said. "Rather, it is about providing insights and increasing awareness of how to make informed decisions in the marketplace and carry them out responsibly and ethically."
Ali hopes that the project will deepen his knowledge about changing business conditions across cultures, as well as develop new insights regarding teaching responsibility and the need to acquire new perspectives.
"This insight is useful for improving teaching at IUP and positioning it globally," he said, which is especially true as a growing number of students with diverse backgrounds are enrolling in business majors at IUP and as the school continues to engage in exchange programs with universities across the globe.
"This particular research will position IUP among some of the leading universities in the world," he said. "I am committed to the teacher-scholar model, excellence in scholarly and research activities and to serving our university and community."
Ali joined the IUP faculty in 1989. He is a graduate of the University of Baghdad, where he also did postgraduate study. He received his MBA from Marshall University and his doctorate in management with a concentration in strategy from West Virginia University.
Before coming to IUP, he was a faculty member at Saginaw Valley State University, Fort Hays State University and Indiana University South Bend. He was an invited visiting professor of management at the University of Calgary and at the University of Sharjah. He was honored with a Fulbright Senior Scholar Award in 1997 for study at the University of Jordan. In 2010, he was invited by the Ministry of Higher Education in Iraq to serve as a visiting scholar and presented lectures and workshops at various universities in Iraq.
He has published seven books, 16 chapters in scholarly books and more than 100 refereed journal articles. He has also had more than 80 other journal publications and more than 100 commentaries or opinion pieces on current events published in newspapers and other outlets.
His work has been cited by scholars, included in the "Congressional Record" and used by the United Nations in debate on Iraq. He has given hundreds of invited presentations at professional meetings and conferences and has conducted faculty-development workshops throughout the world.
Ali has developed instruments to assess management characteristics such as loyalty, risk-taking and decision-making styles, and his work has been cited frequently in the Social Science Index. He developed two assessment scales adopted by the Behavioral Management Database Services.
Ali was one of the first researchers to address the competitiveness issue and its global dimensions, and he continues to collaborate with scholars from other countries. His research focus has been on competitiveness in the global environment and cross-cultural studies of managers.
He founded and continues to serve as editor-in-chief of the International Journal of Commerce and Management. He also edits three other journals, Competitiveness Review, Advances in Competitiveness Research and Competition Forum, and serves on the editorial boards of more than 13 additional journals and as an ad hoc reviewer for several others.
In 1998, he was named "third most prolific writer" in the national management area by the Journal of Teaching in International Business.
He has organized several national and international conferences and has been instrumental in establishing two major academic organizations: the American Society for Competitiveness, serving as executive director since 1991, and the International Academy of Business Disciplines, serving on the board of directors since 1990. He also has served as the executive director of the International Society for Competitiveness since 1992 and on the international advisory board of the World Security Network Foundation.
He was a member of the board of directors of the Arab Management Group from 1993 to 1997 and of the board of advisors for International Business Press from 1991 to 2007.
In 1992, the U.S. Department of Education awarded him a $166,000 grant for the internationalization of business programs. He also received a grant through the Canadian Educational Program.
In addition to the University Professor honor, IUP has recognized Ali with the Distinguished Faculty Award for Research, both in 1994 and in 2008. The International Academy of Business Disciplines has also honored him with many awards, including two for best paper and the Award to the Founder. In addition, he has received two research awards from his department and a Best Empirical Research Paper Award in 1990 from the International Academy of Management and Marketing.