The 2016 Distinguished University Professor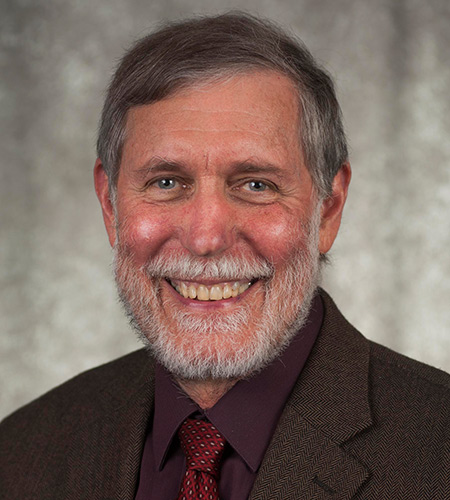 "Dr. Downing is known internationally for his contributions to the fields of English and literary and cultural studies. We are proud to have him join the ranks of our Distinguished University Professors, who remain active scholars and teachers." IUP President Michael Driscoll said.
About David Downing
A professor of English, Downing is known for his work on important topical issues such as academic freedom; intellectual property; affirmative action; the privatization of public higher education; the history of criticism and theory; critical pedagogy; integrating the liberal arts and professional education; the academic labor movement; and the role of the humanities. He also is the founding editor of Works and Days, a distinguished academic journal with an international subscription list.
"First of all, I am tremendously grateful for this honor," Dr. Downing said. "IUP has been a wonderful place for me in large part because I work in a collaborative environment with the support of so many fine students, colleagues, and administrators.
"IUP has also given me a great deal of academic freedom to pursue my interests in both teaching and scholarship. That is not the case for so many higher education faculty today who are not protected, as we are, by strong collective bargaining agreements."
Downing joined the IUP community in 1988. He is the director of graduate studies in literature and criticism in the Department of English.
He is the author or editor of six books. Two of those books were published by the National Council of Teachers of English (NCTE), the main national organization in his field.
He has published more than 65 essays, book chapters, and review articles in peer-reviewed journals. He has been invited to speak at local, national, and international forums and universities. He has received numerous grants and awards, both locally and nationally, and his scholarship is referenced in many publications, including in the New York Times (March, 2009; December 2010) and in interviews by such national publications as Inside Higher Ed, and in a radio talk show broadcast on many stations.
Downing's research also extends to the divisions between the sub-disciplines of composition, creative writing, and literature, and impacts the ways universities organize the curriculum, the classroom, and the academic workplace. All of Downing's research and teaching has been motivated by the need to create and sustain just working and learning conditions for faculty and students in higher education.
Works and Days has been widely cited in many other sources, both online and print, including both the New York Times and the Chronicle of Higher Education. The journal has an international subscription list. Over the past 30 years running this journal, Downing has edited and published some of the most innovative, cutting-edge scholarship in cultural studies and critical pedagogy. Five of the Works and Days volumes have subsequently been revised and published as notable books by university and commercial presses.
He has been nominated to the governing bodies in national organizations such as the Modern Language Association (MLA) and the American Association of University Professors (AAUP). In 2010, he was nominated and elected to the MLA Delegate Assembly, the main leadership organization for the Modern Language Association; and to the MLA Committee for Academic Freedom and Professional Rights and Responsibilities.
In addition, Downing has served in leadership positions in national organizations such as on the Board of Directors for the Society for Critical Exchange and as a Steering Committee Member of the well-known GRIP Project (Group for Research in the Institutionalization and Professionalization of Literary Studies). He has often been asked to review books for notable academic presses; he has also been asked to do outside tenure reviews at other universities and, in 2010, was asked by the Pennsylvania Department of Education to serve as an outside evaluator for two new proposed MA programs at LaSalle University.
At IUP, Downing has served on every one of the main English Department committees (search, tenure, promotion) and all of the standing committees in the Graduate Studies in Literature and Criticism Program. He has also served on three university-wide committees, including the University-Wide Sabbatical Committee.
During his tenure as Distinguished University Professor, Downing plans to work on two primary scholarly projects: he will design, produce, and implement an interactive, multimedia website to serve as a companion to his most recent book, Just Theory: An Alternative History of the Western Tradition; and will work on completing his next book, University Uprising: A Diorama of Social Crises in Higher Education, 1798-2018.
He received his PhD from the State University at Buffalo.