Dr. Lynn Botelho was recognized as a Distinguished University Professor in 2011–12.
This award is presented to an IUP faculty member who demonstrates an outstanding record of teaching, research and scholarly activity and service.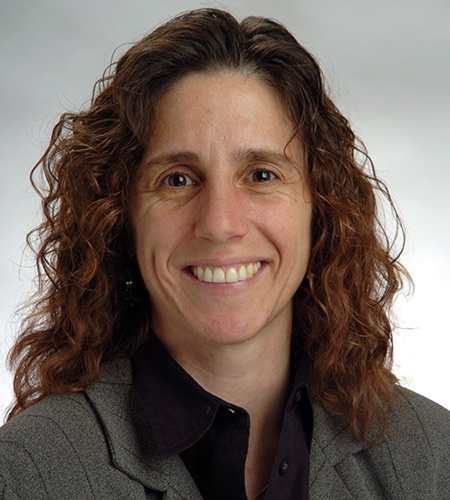 The award is presented on an annual basis, and recipients retain the University Professor title for a lifetime.
"The University Professor is an individual that exemplifies excellence in all areas of teaching, research, scholarly activities and service," Dr. David Werner, IUP interim president, said. "Dr. Botelho has a documented record of dedication to IUP's teacher-scholar model."
The purpose of the University Professorship is to recognize, reward and encourage IUP faculty members who are actively engaged in research and scholarly activities that advance the faculty member's discipline or the teaching of the discipline.
During her tenure as University Professor, Botelho plans to work to complete her current monograph, a study of old age and aging in 16th- and 17th-century England, titled "The Aging Body."
"To be recognized by my own university in this fashion, with this award, is more than a little awe-inspiring. Being an historian at IUP, and one that teaches a university-wide requirement, allows me to be a teacher/scholar in a very meaningful way. I get to teach a wide variety of students, and they all bring something distinctive to our conversations about the past and our attempts to understand the human condition. And, more times than not, we even make a bit of sense about the problems of the modern world."
Botelho's work on this monograph will have a direct impact on her teaching, as she will incorporate archival findings for the publication directly into the classroom.
"The increased knowledge from this research will widen the breadth of my teaching," she said. "By writing the monograph, I will continue to learn how to best convey the content of this important, yet challenging, topic. To me, this approach is exactly what it means to be a teacher-scholar."
Botelho joined the IUP faculty in 1996 as an assistant professor of history and was promoted to the rank of professor in 2005. She also serves as a core course professor for IUP's Robert E. Cook Honors College, a position she has held since 2000. She has also served on the Cook Honors College Admissions Committee and its Achievement Fund and on the IUP International Scholarship Committee, representing IUP at Truman-Marshall Fellowship conferences.
Botelho serves in several international executive positions in the field of British studies, including as president of the North American Conference on British Studies. In this role, she organized and hosted the national meeting of the organization in
November 2010. This conference brought a near-record-setting number of participants from throughout the world.
She also serves as secretary to the board of directors of the American Friends of the Institute of Historical Research at the University of London. This group raises and distributes funds to help maintain the organization's library and to assist American Ph.D. students to research in London.
Altogether, Botelho has organized three international conferences, six national-regional conferences, a local conference and the western Pennsylvania Undergraduate History Forum.
In 1999, she organized an international conference, "The Worlds of John Winthrop: England and New England, 1588-1649," which drew more than 50 invited speakers (including Pulitzer Prize winners) and more than 250 people. The conference not only produced a collection of essays, but resulted in a team-taught class between Millersville University of Pennsylvania and IUP that linked both sets of students by video. It enabled IUP students to have direct contact with these scholars and post-conference chat-room conversations.
She also is an active member of many departmental and university committees, including the Foundation for IUP Board of Directors, serving as faculty representative, and the Women's Studies Committee, serving on the committee in charge of the five-year review. She is also on the Universitywide Promotion Committee.
Botelho remains committed to undergraduate teaching and mentoring. In her years of teaching, she has seen her graduates achieve five Fulbright scholarships, placement in graduate and law schools and employment as tenure-track professors. She also helped to design and currently coordinates the history department's honors program, which includes supervision of at least one student honors thesis. She is a longtime judge for National History Day and is chairwoman of the department's tenure and promotion committee.
She has published seven books and 13 articles or essays, including "Old Age and the English Poor Law, 1500-1700," the first ever extended study of its kind. One of her essays, "Old Age in Seventeenth-Century Europe," which appears in "The History of Old Age," was a Book of the Month Club option in German.
Other publications include "Power and Poverty: Old Age in Pre-Industrial Society," published in 2002, a co-edited collection of essays resulting from an international conference organized in 1999, "Old Age in Pre-Industrial Society," at Ithaca College's Gerontology Institute.
She also co-edited "Women and Ageing in Britain since 1500" in 2000, a collection of essays that are the first extended look at the lives of aging women in England's past.
She was guest co-editor of the journal "Anti-Aging Movements, Medicine and Society" in 2009. This special edition of the journal investigates the range of approaches and groups that promote the idea of anti-aging or the ability to live forever.
She also is the editor of a monograph series for Pickering and Chatto Publishing in London and serves as a manuscript reviewer for several scholarly journals and monograph publishers. Her scholarship also facilitates the work of other researchers by editing scholarly editions of primary sources.
She has been a keynote or invited speaker on old age or the roles of women at several conferences both nationally and in Europe. She is also an invited speaker for next spring's "The Cultural Politics of Aging in the Nineteenth Century Conference" in Germany.
In addition to her naming as University Professor, Botelho was honored by the university with the Distinguished Faculty Award for Research in 2008 and by the history department with the Service Award for Outstanding Service to the Department in 2002.