Dean's Innovation Fund: College of Education and Communications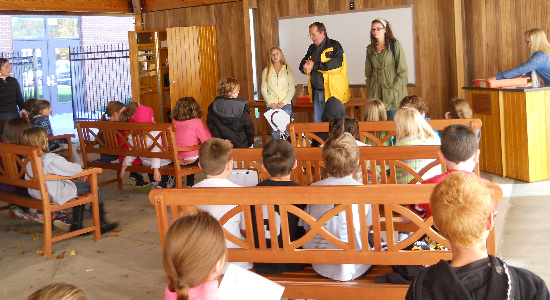 Gifts to the Dean's Innovation Fund of the College of Education and Communications support the following:
Stouffer Outdoor Learning and Teaching Area
Just outside of Stouffer Hall, this learning and teaching area is used by IUP students, faculty, and local school teachers and children, emphasizing how the natural environment can be used in school settings and serves as a tool for the development of environmental education curriculum. The area provides outdoor space for faculty from any discipline to conduct classes and features teaching murals, interactive displays (such as animal tracks embedded on the sidewalk with an identification key), a small waterfall, pond, picnic tables, a smell/touch/taste garden, covered gazebo with electrical outlets and seating for thirty, a roll-down projection screen, audio-visual equipment, magnifying glasses, art supplies, and curriculum supplies. This new effort requires funding to sustain the program.
Your support can make a difference in this project by giving
$25: Art supplies for the garden, wild flowers to plant, clipboards for the gazebo
$50: CD player to play sounds of nature, bird feeders
$100: Instructor set, tables and chairs, microscope
$250: Trees, shrubs, landscaping
$500: Class materials for students, audio-visual equipment
$1,500: Weather-protected video screen, benches, learning stations for each garden area
Other needs include gifts to defray the costs of the following:
Mandatory fingerprinting services for all students and faculty education majors
Undergraduate scholarships, graduate fellowships, and internships
Student-centered extracurricular and professional opportunities (such as conference attendance)
Student teaching supplies
Technological resources for digital photography, gaming, graphics, and media classes
Faculty development
You may make an immediate gift online by following the link above. Or, get print forms that you may mail to us. Either way, we thank you!