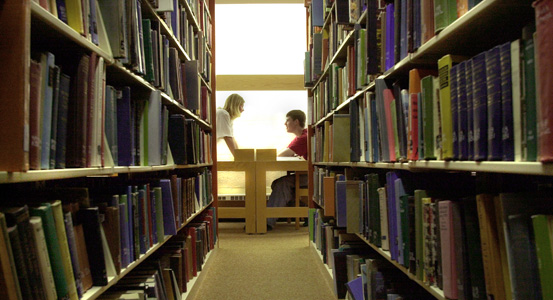 Former IUP Libraries Dean Luis Gonzalez provided a few estimates to illustrate what operating a modern library costs. Garnering support for the libraries system through the Fund for IUP Libraries is a key to continuing progress.
"Gifts of any size are helpful. While our needs are great, we are able to make incredible use of smaller gifts, because they can translate into single items, such as books and small-scale equipment," Gonzalez said.
Currently, IUP is able to spend roughly $1.75 million annually on acquisitions, defined as books, periodicals, subscriptions, monographs, database licensing and renewals, etc. But, Gonzalez believes that a libraries system in a university of IUP's size should spend $2.25 million. The challenge, he said, is that periodicals and database subscription costs rise between 5 to 10 percent annually.
Today's students are required to access the Internet and other online resources, which requires tools and, for many students, training on how to use the tools. Were Gonzalez to get his wish for additional classrooms, which would allow him to expand his operation's services, one classroom would require an initial investment of $17,000 for computers—accommodating fifteen students—and an interactive whiteboard, which costs roughly $8,000.
He said the computers would need to be replaced—because of upgrades and wear and tear—every two to three years. The libraries' Special Collections and Archives Department doubles as a treasure chest of rare pieces and archives, has no state-funded budget. Rather, it relies on the generosity of the private sector to fund its acquisitions, which often provide historical insight to the university community or become focal points for engaging discussion. For example, the Special Collections area used private funding to purchase first-edition works of Jules Verne.
This area also holds all the official papers of the R&P Coal Company, including mine maps, which are used for modern-day safety and rescue as well as for historical research. Special Collections would benefit from the donation of rare or historical items or monetary gifts to acquire them.